Back to News
2020 Edwin Parr Award Nominee Announced
Posted on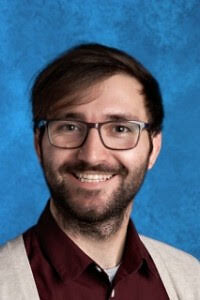 F.P. Walshe School teacher Mitchell Duram will represent Livingstone Range School Division at the annual Alberta School Boards Zone 6 Edwin Parr Teacher Awards banquet in Taber on May 20, 2020.
The award honours outstanding first-year teachers in Alberta, and according to F.P. Walshe Assistant Principal Randy Bohnet, Duram's nomination is well-deserved.
"Mitchell is already a leader at our school and shows so much commitment and relationship building," says Randy. "He has gone out of his way to get to know students that aren't in his classes, and makes everyone feel valued and heard."
The impact that Mitchell's teachers had on him as a young person inspired him to pursue a career in education so that he could support students to set and achieve goals and overcome challenges. 
"It is important for students to recognize and value their own individual gifts and talents," Mitchell says,  "and my aim is to support them in building upon and sharing those gifts and talents in order to realize their potential."
Currently, Mitchell is teaching CALM 20, Experiential Learning 9, and Math 9, and has taught Science 9, and English Language Arts 9. He says that his experience at F.P. Walshe school has been rewarding. 
"Mitchell finds ways to include all students and give them a voice," says Randy. "His carefully planned lessons are also open to flexibility as required, and he is sensitive to students' personal contexts and needs. Students respect Mitchell and enjoy his classes."
School boards across the province nominate one exceptional candidate for the Edwin Parr Teacher Award to their ASBA zone committee each year. The successful nominees from each Zone are honoured with a smartwatch and framed certificate bearing the Association's logo at the ASBA Fall General Meeting in November.
"I am incredibly honoured and humbled to be nominated for the Edwin Parr Award," says Mitchell, "particularly because I know and have worked with other talented first-year teachers. It makes me feel that while I will continue to learn and grow as an educator, I have made an excellent start to my career."
 As the 2020 LRSD nominee, we congratulate Mitchell and wish him the best of luck at the awards banquet.  
For more information about the award and nomination criteria, visit www.asba.ab.ca.