Back to News
Alberta 2020-2021 School Re-Entry Plan
Posted on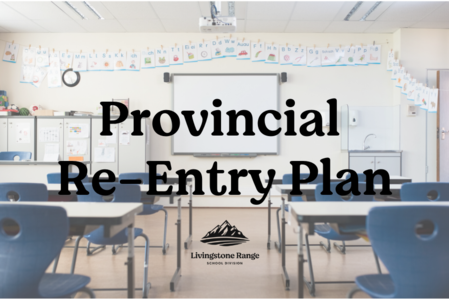 Today Alberta Education Minister Adriana LaGrange announced the province's re-entry plan for schools for the 2020-2021 school year. 
The document begins:
Implementation of this School Re-Entry Plan is subject to change and direction from the Chief
Medical Officer of Health. It is based on the best available information and conditions related to
the COVID-19 pandemic. This plan will evolve and be adjusted when information becomes
available as the status of the COVID-19 pandemic changes.
Alberta Education will continue to engage with our education partners as part of this important
process.
Livingstone Range School Division continues to work closely with Alberta Education and Alberta Health to plan for the 2020-2021 school year. The safety and wellbeing of our students and staff is always our top priority.
A final decision about September's re-entry plan will be made by the provincial government not later than August 1. We will be in contact with our stakeholders after that announcement to communicate and continue preparations for next school year.