Back to News
Andrew Walmsley: Living the 7 Habits
Posted on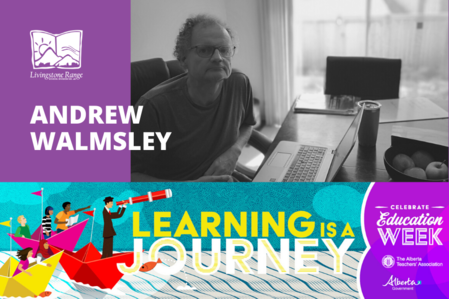 W.A. Day Elementary School is a Leader in Me School where the 7 Habits of Happy Kids are practiced and lived. But what happens to those ideals when students are no longer in classrooms?
Grade 4 Numeracy teacher Andrew Walmsley and his Literacy teaching partner Patty McNally continue to use the 7 Habits virtually - with their students and personally.
"We create a video announcement on Screencastify that we post every morning through Google Classroom to help keep the kids on track for the day. Classroom closure due to the COVID-19 pandemic is really giving me time to delve deeper into available resources and technologies," says Andrew. (That's Habit 2: Begin with the End in Mind.) 
Those resources are a big hit with his students.
"Mr. Walmsley's online resources are spectacular!" says Niesje Vanden Dool, whose daughter, Cassie Rippin, is in his class. Niesje says that at-home learning for Cassie has been very successful in large part to teacher Andrew Walmsley's math resources. 
"The math resources he shares would blow your mind," Niesje says. "There are math stories, math poetry, and links for math that are amazing - we reference them all the time."
Habit 3: Put First Things First is evident in Andrew and Patty's ideas of Big Rocks and Little Rocks in their assignments. "We create a Google Slide weekly plan that we send out to students every Monday morning," says Andrew. "We divide activities into Big Rocks (those activities which we encourage students to complete that week) and Little Rocks (extra activities and sites to supplement learning)."
The teachers also set aside a 15-minute time slot to meet virtually on Google Meet with each student on Wednesdays and Thursdays. Andrew says, "I'm really enjoying the opportunity to connect with students on Meet every week. It's the best part of the week!"
And it works really well for young Cassie as well, says her mom. "Cassie can book in her time on her own and get going with her meeting with her teachers," says Niesje. "It's spectacular!" It's also Habit 1: Be Proactive - that is, students being responsible and taking initiative.
Sharing and listening - a key part of Habit 5: Seek First to Understand, Then to be Understood - happens virtually and digitally through those weekly meetings as well as through assignment submission. "Students can share their complete work with us during the Google Meet," says Andrew, "or just talk about how things are going. Students are excited for that time with us and it allows us to connect with brothers and sisters we taught previously." 
In addition, there are lots of different ways for students to share their learning with their teachers, including submitting a video, screencast, photo, or submitting work in a Google Doc or Slide format. These options allow students to share their feelings and their work in a way that works best for them, and in a way that they feel heard and understood.
All of this technology may not have come naturally to Andrew, but he is  doing great things with it. Niesje says that technology "was not Mr. Walmsley's language or way of knowing, but he's pursued it and nailed it! He's made technology and learning fun and dynamic for his students."
That certainly seems to be an example of Habit 7: Sharpen the Saw. In addition to embracing technology and learning new things, Andrew finds balance with his family. He and his wife, Wanita, have been doing some yard landscaping and he's made time each day for shovelling soil, moving rocks around, and putting down mulch.  And his daughter is at home now, too. "We're happy to have our daughter home with us from the University of Alberta," Andrew adds, "where she just finished her first year of medical school."
Andrew and his teaching partner Patty are certainly living and sharing the Leader in Me 7 Habits of Happy Kids during the COVID-19 pandemic. The Grade 4 students at W.A. Day Elementary School will be so much the better for it - in school and in life.
Meet Andrew