Back to News
Become a Host Family for an International Student
Posted on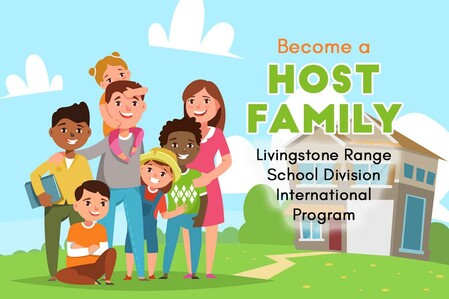 Are you interested in learning about a new culture first-hand? Would you like to enrich your family life?
Hosting an international student is an amazing way to do both!
The Livingstone Range School Division International Program is currently looking for caring host families to open their home to a visiting student from abroad. If you can provide a separate bedroom and meals for the student, along with a clear criminal record check, you are eligible to become a host family.
Your family will benefit by expanding your understanding of the world and other cultures, make lifelong friendships, and share the beauty and warmth of Canada. International students who live with Canadian families learn language and Canadian culture in a healthy, caring environment and become valuable future partners in trade and global leadership.
Host family opportunities are available for the following terms:
February 2020-January 2021: host Grade 10-11 students from Japan
April-June 2020: host Grade 10-11 students from France
September 2020-June 2021: host Grade 9-12 students from Chile, Germany, Mexico, Spain, and Turkey
Compensation is provided to host families and time commitments vary. Find out more about being a host family here or email globalstudents@lrsd.ab.ca with specific questions. 
If you're ready to become a host family to an international student, complete our Homestay Host Family Application here.