Back to News
Bus Status Feature Helps Families
Posted on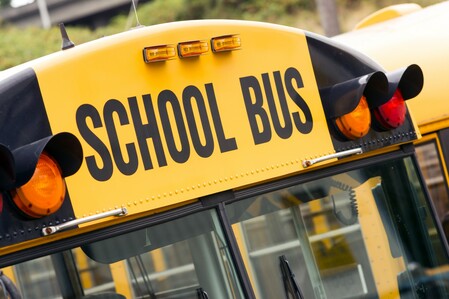 We know that bus route updates are important for families, especially in the winter. Our new websites still include a bus status feature so you know if your child's bus is on time, delayed, or cancelled. This article will help you become familiar with the new bus status system so you're confident when you send your child to school each day.
WHERE TO FIND BUS STATUS
On a desktop computer, Bus Status is located on the right-hand side of the school's website homepage,  below the banner image.
On mobile simply scroll down on the school's website homepage until you find Bus Status.
The biggest change is that the bus status icon on schools' homepages is school bus yellow. Don't be worried if you see the yellow bus: that's its usual state. Check the Bus Status area on the website for accurate and up-to-date information.
Please note that on the Division website, the bus icon functions differently: it is green unless there is a delay or cancellation in the Division.
HOW BUS STATUS IS DISPLAYED
Cancelled buses are shown with a red square next to the bus route and number, along with the word 'cancelled.'
Delayed buses are shown with a yellow square next to the bus route and number, along with the word 'delayed.'
On Time buses are shown with a green square next to the bus route and number, along with the words 'on time'
MORE DETAILED INFORMATION
When you click View All to see more information on bus status, you will be taken to the Division's transportation bus status page. Here you will see what time the status was updated, so you know you have the most current information.
You can search for a specific bus route by name, number or driver. Or you can filter by area and see all of the buses in your community. You can also filter by school to see only the bus routes going to a particular school. See the image in the Guide below for details.

Our Transportation Team - including our drivers - is committed to the safety and wellbeing of our students as they travel to and from school. Bus route status is updated as necessary, particularly during weather events. Please check your school's website for the latest information.
Bus Status Page Guide