Back to News
Eliza Grose: Everyday Learning & Joy
Posted on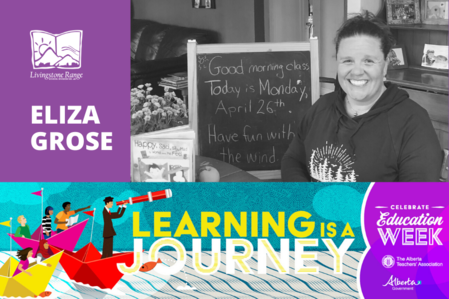 During Education Week (April 27-May 2) we are spotlighting staff and continued learning in LRSD amidst the COVID-19 pandemic.
Livingstone School Kindergarten teacher Eliza Grose is finding teaching opportunities - and joy - in everyday life during the COVID-19 pandemic. 
"Life lessons such as cooking, singing, chores, painting, nature walks, building things, and reading together are a few simple tasks that can provide such amazing learning opportunities if we allow the children to guide the task, the discussion, and the wonder," she says.
Not only do Eliza and her Kindergarten team (see photo in gallery, below) share daily video messages with low-stress numeracy and literacy activities for students, they also share their own home experiences to show there is learning to be found all around us. Living on a ranch, Eliza shares videos of baby calves, horses, and the signs of spring. Educational Assistants have shared videos of baby chicks and lambs, family card games, and art projects. 
Eliza believes that being present, being patient, and showing love will help young learners to learn everywhere. "We are helping to provide the framework and ideas to initiate these learning opportunities and provide supportive feedback," she says.
That framework includes encouraging students to participate in an alphabet scavenger hunt, Wonder Walk BINGO, shadow drawing, building a kite that really flies and a boat that really floats, and age-appropriate cooking challenges. Through the LEGO word-maker challenge, students can make letters and words using LEGO bricks - something almost every household has readily available. (See student project photos, below.)
While learning from home might not look like a typical Kindergarten classroom, Eliza is a big believer in finding joy despite the circumstances. A favorite quote helps her remember to choose to see joy regardless of the situation: "Sometimes you have to let go of the picture of what you thought life would be like and learn to find joy in the story you are living."
For Eliza and the Kindergarten team, that joy comes from staying connected to one another and the students. The staff meets regularly to share a laugh and discuss professional development or real-life challenges, and stay connected with students and families through a private Facebook group, weekly phone calls, video messages, postcards, and emails. 
Joy is something Eliza also chooses as she checks on her cows, goes for a walk, snuggles up with a good book like Grit by Angela Duckworth, spends time with her family, and reads each day with her 3 kids. She's looking forward to the summer when she will swim, kayak, and camp.
In the meantime, Eliza will continue to see learning and joy in everyday activities. "My self-care during this time has been helping on the ranch and being very involved with our calving season and then sharing this with my student," she says. "Share joy and be kind to yourself."
It's good advice for us all.
Meet Eliza