Back to News
FACES Registration Postponed
Posted on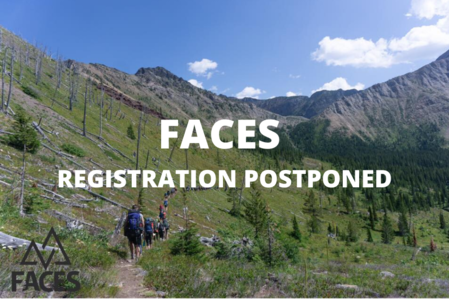 If you're a Grade 9 student, you've likely been looking forward to your opportunity to participate in the FACES Summer Education Program. More than 400 students from across Alberta have been empowered through Livingstone Range School Division's unique 2-week outdoor adventure program.
Due to the COVID-19 pandemic, registration for FACES will be postponed this spring. 
Please see FACES' statement below or visit https://www.faceseducation.com/ for further details. We'll let you know when registration opens.
"We hope that you and your loved ones are safe during these difficult times. With so much uncertainty we have decided to postpone FACES registration for several weeks until we can all better predict and plan our summer months. It is our commitment and intention to make FACES available to those who seek to attend this summer and we recognize, perhaps, an even greater need to help the youth of Alberta find meaning in adversity, develop resilience, and connect with community this year. It is our hope that programming such as FACES will be safe to continue by the beginning of summer but until the peak of the pandemic has passed and we have a better idea of the state of emergency in our province we will pause registration. 
"We will be working closely with LRSD, and following the council of Alberta Education & Alberta Health Services to make decisions and bring you detailed updates when available. Feel free to continue to reach out to us for specific questions."