Back to News
New Administrators for Granum & Colony Schools
Posted on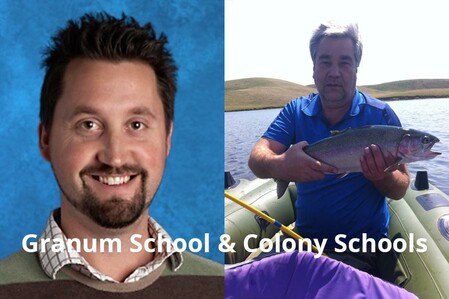 Livingstone Range School Division is pleased to announce that beginning in the 2020-2021 school year, Nick Beer, Principal at Granum School, will take on the additional role of Principal of Hutterite Colony Schools, and that Randy Bohnet will be the Assistant Principal of Granum School and Colony Schools.
"Both Nick and Randy bring tremendous leadership and enthusiasm to Granum School and the 13 Colony Schools," says Superintendent Darryl Seguin. "They each have proven to be strong administrators and relationship-builders."
Nick has taught in LRSD since 2006, and has also been Acting Assistant Principal at West Meadow Elementary School and F.P. Walshe School. He has Bachelor of Science and Bachelor of Education degrees from the University of Lethbridge and a Masters of School Improvement and Leadership also from the UofL.
Randy holds a Bachelor of Arts degree from the University of Calgary, Bachelor of Education from the University of Lethbridge, and Masters of Educational Leadership from the University of Calgary. He has been in administration roles with LRSD since 2003 and has been Assistant Principal of F.P. Walshe School since 2012. 
For the past several years Wes Wescott has overseen the Colony Schools as Principal and he will retire at the end of the current school year.
"We saw an innovative and cost-effective opportunity by adding the Colony principalship to an existing administrator's responsibilities,"  Darryl says. "In our current fiscal environment, it makes sense to find creative approaches that maintain high quality learning environments and provide professional development that meets the needs of both school populations. We're confident that Nick and Randy are up for the task ahead."
"I believe in a collaborative approach and am excited to work with new people to create unique learning environments in diverse locations," says Nick. "I am looking forward to continuing our work at Granum School and am excited to meet the staff and families in the colony schools."
Randy's experience and philosophy of relationships will be a great benefit to the Granum School and Colony School teams.
"I am a strong believer in family and community," says Randy. "I love the cohesiveness and support they bring to a child's education. As such, I am very excited to work with the Granum and Colony School communities in continuing to build supportive school cultures for their children."
Congratulations to Nick and Randy on their new leadership roles.