Back to News
Heather MacDonald: Growth Mindset & Perseverance
Posted on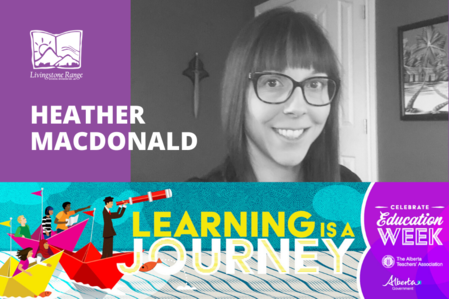 During Education Week (April 27-May 2) we are spotlighting staff and continued learning in LRSD amidst the COVID-19 pandemic.
There's a powerful secret that Stavely School teacher Heather MacDonald likes to share with her students: your brain is like a muscle and when you try challenging things it gets the exercise it needs to get stronger and smarter.
This description of a growth mindset is central to her teaching. Heather started the year with her split Grade 2/3 class by talking about the importance of having a growth mindset and then posted a bitmoji of herself with the words "WORLD'S BEST TRY-ER". 
"It became a bit of a motto for my students throughout the year," Heather says. "I'd hear students occasionally say "I'm being the world's best try-er" or I could ask them "Are you being the world's best try-er?" in order to remind them to go back and keep trying. This really seemed to help my students who tended to give up easily to build their perseverance."
During the COVID-19 pandemic, Heather continues to emphasize a growth mindset with her students. Through a class website, in-depth feedback emails, lessons, YouTube videos, and phone calls, Heather provides encouragement to try new strategies and to keep practicing the perseverance strategies they've learned in the classroom in their new at-home learning environments.
And it's not just the students who are being challenged to strengthen their brains. As the teacher, Heather is stretching and growing, too. "It's been important to remind myself to have a growth mindset as I'm learning to incorporate all this new technology into my teaching!" Heather says. 
Technology - like starting a YouTube channel and using Screencastify, which allows her to record her computer screen and share as a video - is helping Heather stay connected with her students. She also loves to include bitmojis (cartoon pictures that look like herself) with inspiring messages on her emails to bring smiles to students' faces and remind them to keep trying. And she provides detailed feedback for her students, phrasing her suggestions for improvements as questions such as 'Could you tell me more about this?' or 'What if you added more about this to your story/reading response or math page?'
This kind of feedback is especially important when she can't be with her students in person. "There has never been a more important time for teachers to use their relationship with their students to encourage growth mindset and perseverance," Heather says. "We are all experiencing uncertainty, stress, and struggle to varying degrees. As teachers we need to be there to support our students as best we can as they try their best with home learning and all other aspects of this 'new normal'."
As an aspiring author with several published short stories, Heather knows that to work hard, keep trying, learn from mistakes, and continue learning are all part of a healthy growth mindset. She says, "I've had some short stories published, and every one of them has required extensive revising and editing before it was accepted for publication. If I just wrote a story, sent it away, and then gave up on it being published after my first rejection, I would never have had any stories published."
When she's not teaching or writing, Heather continues to strengthen her brain muscles by reading, journaling, walking her dog Axle with her husband, playing board games and video games, and cooking healthy meals. She is definitely providing a model for her students to follow. "I believe everyone should be a lifelong learner," says Heather, "and I try to live as that example for my students."
With a growth mindset and perseverance, there's nothing stopping Heather or her students: not even a pandemic.
Meet Heather