Back to News
Home Education with LRSD
Posted on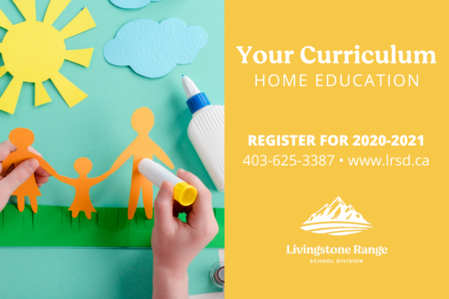 Did you know that you can choose your own home education curriculum?
That's right! Families are free to select from resources that best support your home education program plan and philosophy.
With LRSD Home Education you have the option of choosing from the Alberta Program of Studies, the outcomes outlined in the Home Education Act, or a combination. If you choose to follow the outcomes in the Home Education Act, you will develop a program plan outlining how you will meet the learning outcomes. 
And, blended programming options are available! That means that you can choose parent-directed for some courses and work with an LRSD teacher to direct others, while still having your child work from home. There are options for attending your local school as well. This is determined on an individual basis, in consultation with yourself, your student, the home education facilitator, and the local school.
LRSD is supportive of families who choose to educate their children in traditional, parent-directed home education. Our Home Education Principal and Facilitators can help answer your questions, assist in developing your own program if requested, and will support you and your family on your home education journey.
Register now for Home Education with Livingstone Range School Division!
Click here or contact Jacqueline Kark at karkj@lrsd.ab.ca or 403-625-3387.