Back to News
Jen Stickney: Helping Early Learners
Posted on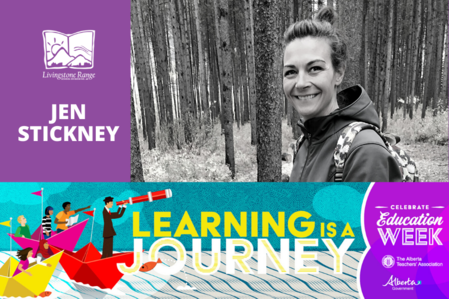 During Education Week (April 27-May 2) we are spotlighting staff and continued learning in LRSD amidst the COVID-19 pandemic.
Learning Support Teacher Jen Stickney is helping our earliest learners stay on track despite the COVID-19 pandemic - and that includes her own young sons.
"I am creating early literacy and numeracy videos with my own 3- and 5-year-old kids to share with the families I work with," says Jen.
As Kindergarten Learning Support and Program Unit Funding (PUF) Coordinator at Horace Allen School, Jen provides specialized support to young students and their families who need it. In a regular school setting, that means helping preschool and Kindergarten students with identified needs get the programming and resources they need to succeed. During pandemic at-home learning, Jen gets creative with program delivery and connection.
"I facilitate the planning, creating, and distribution of engaging educational videos for our earliest learners," says Jen. "These videos go out from our Educational Assistants and Art/Music specialists on a daily basis."
Jen meets regularly via Google Hangouts with the Kindergarten team members. Seeing other teachers and early learning professionals doing amazing things to support students and families during this time is so rewarding for Jen.
"I have seen so many of my colleagues utilizing innovative platforms to deliver programming with new technology and finding creative ways to differentiate for students," says Jen. "Being able to collaborate and learn from my colleagues has allowed me to feel more successful and motivated to embrace this new way of teaching."
While the early learning team meets to discuss education continuity, they also focus on connection and wellbeing of the group members. "When we connect this way," Jen says, " we always start with recognizing personal successes and sharing self-care tips. It's essential to stay grounded in kindness and patience during this time. We need to do this for ourselves, our families, our students, and their families."
One way that Jen stays grounded and takes care of herself is to make time to get outside biking, visiting the river, and tree climbing with her boys. She's looking forward to the summer when she can paddle board on the lake and look for turtles with her family.
For now, she continues to make early learners' education engaging and accessible to Horace Allen students. Like so many Livingstone Range School Division Staff, Jen is finding creative ways to help her students, colleagues, and family benefit from her commitment to education.
Meet Jen