Back to News
National Indigenous History Month
Posted on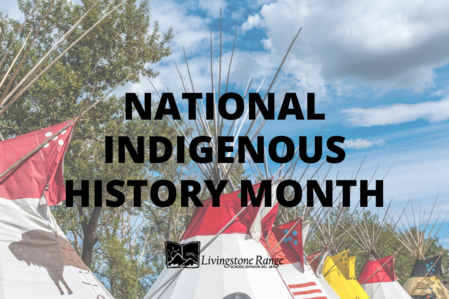 June is National Indigenous History Month and we are excited to share some local indigenous history with you to celebrate.
Have fun learning southern Alberta Blackfoot place names:
The Livingstone Mountain range is known as Pani'kahtaayiikstakiksi (tipi liners) in Blackfoot because they are shaped like the liners or curtains inside of a tipi.
Claresholm- Asoyinnaapiooyis (pronounced- Aa soy inn naa pew yes)- Barrel House, named for the water tower which held water for steam engines.
Pincher Creek- Spitsii (pronounced- Spee tsee) meaning tall trees.
Fort Macleod- Aakaapoiyis, pronounced Aa Gaa Pew Yes, translate to many houses.
Old Man River- Naapihtaa, pronounced Naa Beh Daa, named after the traditional site where the headwaters originated from, Napi's Playground, Napi, is the old man.
Okotoks- 'Okatok' is the Blackfoot word for rock, the story Napi and the Rock tells the story of how the rock erratic came to be.
Ponoka- Means 'Elk' in Blackfoot, the name derives from a traditional story about elk.
Calgary- Mohkinstsis- translates as elbow in Blackfoot because of the shape of the river, this is where Elbow River got its name.
Check out these videos featuring Blackfoot musicians, authors, artists:
Visit our FNMI page for more new and information.