Back to News
School Council Parent of Distinction
Posted on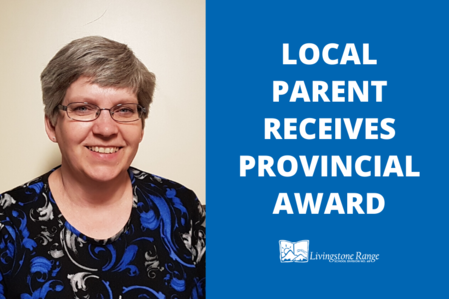 Cathie Harris, dedicated Livingstone Range School Division school council volunteer, has been awarded the Alberta School Council Association's (ASCA)  School Council Parent of Distinction Award. 
Cathie has served on school councils for 12 years, from 2007 to 2019, and at three schools: F.P. Walshe School (where she was the Chair for 10 years), G.R. Davis School, and W.A. Day Elementary School.
LRSD Superintendent Darryl Seguin, who worked with Cathie when he was Principal at G.R. Davis School, says Cathie is committed and dedicated, providing "reliable and consistent involvement through the years." Associate Superintendent Richard Feller, who also worked with Cathie at G.R. Davis School, says that "Cathie was an integral part of the team. She has selflessly given of her time and talents to support our schools. She has always been a servant leader who has put students and community first!"
Cathie believes that serving on school council is important because of how it positively affects students and promotes communication. "It's a good way for the school administration and parents to work together to help improve things that impact the students," she says. "Administration can share their concerns with parents, and parents can give feedback and present their views," Cathie says. "The parent 'voice' is heard in school council by school administration, in Regional School Council by the school division, and through the Alberta School Councils Association by the province."
The ASCA School Council Parent of Distinction Award recognizes individuals who promote parental engagement and involvement in the public education system, and who are dedicated, proactive leaders. 
F.P. Walshe Assistant Principal Randy Bohnet says, "Cathie is very deserving to be recognized for the years of service she gave to the school and for the manner in which she fulfilled the roles in which she volunteered. She is positive, encouraging, and takes great pride in the achievements of the school and its students."
Cathie is grateful for not only the award, but for the opportunity she's had to work with great people through the years. "One of the things that I have enjoyed at School Council is being able to associate with other parents and with staff that truly care for students and for the school," she says. "I am surprised and humbled to receive the ASCA School Council Parent of Distinction Award. It is an honour to be recognized in this way. I look up to many other parents that I have served with on School Councils through the years who have made great contributions to the school, the School Council, and the community."
Congratulations on your award, Cathie! Thank you for your many contributions.