Back to News
School Health Measures Now Include Mandatory Masks
Posted on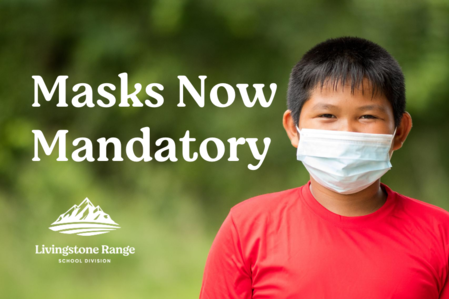 An announcement this morning from the Minister of Education and the Chief Medical Officer of Health has indicated that the latest evidence for a safe return to school requires that mandatory mask use will be in place when schools reopen this fall.
This new health measure indicates:
Mask use for students in Grades 4 to 12 will be mandatory
Mask use for students in Kindergarten to Grade 3 students will continue to be optional
Mask use for all school staff will be mandatory
Student mask use will be required when physical distancing cannot be maintained in the classroom, and within all shared and common areas such as hallways and on school buses.
The Government of Alberta will provide Livingstone Range School Division with two reusable masks for each student and staff member, as well as a face shield for each staff member, hand sanitizer for each school, and two contactless thermometers for each school. LRSD has procured additional personal protective equipment and cleaning/sanitizing supplies as well. 
We understand that a mask must be comfortable, properly fitted, and familiar.  As such, families and staff are encouraged to source their own masks if possible and practice proper mask use prior to the new school year.  
While there are still many questions, Livingstone Range School Division is committed to providing more details and information in the coming weeks.  Our LRSD School Re-Entry Plan 2020-2021 will continue to be updated in the days and weeks to follow as we respond to the COVID-19 pandemic.  We appreciate your patience and understanding as we receive provincial direction and implement new measures across the Division.
Visit https://www.lrsd.ca/parents-students/re-entry-2020 for the most up-to-date information.