Back to News
Southern Alberta GSA Network Update
Posted on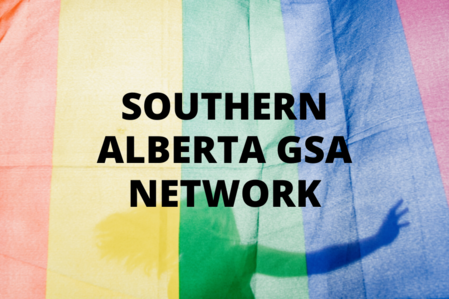 The Southern Alberta GSA Network has several upcoming opportunities for local GSAs. 
Alberta Pride Prom
Two students from a GSA in Lacombe are organizing an online province-wide end of year celebration for students in Grades 9-12! There will be different fun activities and things to engage with, as well as a "Prom Court" for graduating students. Students can register by going to www.albertaprideprom.ca and can check for updates on the Instagram at @abprideprom. If you know an individual and/or organization that is interested in hosting a room, they are also accepting applications for this. It should be a very fun way to celebrate the end of the school year!
Cloud GSA
Our third "Cloud GSA" meeting is happening this Thursday, May 28th . We will be exploring values and boundaries in relationships, and creating a zine based on our discussion. Both students and teacher-sponsors are welcome to attend.  
Link to join the meeting: https://zoom.us/j/2529855643?pwd=bkp6UFVxOWZac2tQbkVJR3ErZFZvUT09
Meeting ID: 252 985 5643
Password: 350891
Camp fYrefly
A new application for an online version of Camp fYrefly between July 12-18th will be opening shortly. I will e-mail the application out to the GSA Network to ensure as many youth as possible have an opportunity to sign-up.  
Trans Youth Research Project
A research team at Ryerson University with five trans, Two-Spirit, gender diverse, and/or gender non-conforming people are leading a study to help identify or shape the best ways healthcare, schools, and social services can support trans, Two-Spirit, gender diverse, and/or gender non-conforming youth during the COVID-19 pandemic and after. Here is the link to the youth survey: https://www.surveymonkey.com/r/V22MXBL