Back to News
Truth & Reconciliation Commission's Calls to Action in LRSD
Posted on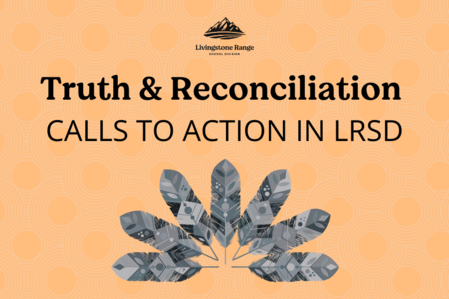 Oki, Niksokowa. Nitaniko Sandra Lamouche, Nisto Asinaakii. 
Hello Friends and Family. My name is Sandra Lamouche, I am a Cree Woman. 
I have been lucky enough to use my background in Native American Studies to share history, culture, and Indigenous ways of knowing in Livingstone Range School Division since 2012. When I first came to my role as First Nations, Metis and Inuit (FNMI) Success Coordinator I was told that Reconciliation should be my focus.
After looking more into the Truth & Reconciliation Commission (TRC) and Report I realized these were the voices of elders and survivors, this was the voice of Indigenous people and what they would like to see for healing, justice, and reconciliation to happen in Canada. If you have come into my office the first thing you will see is the TRC Calls to Action on Education. It is a constant reminder and motivation for the work we do with schools and teachers for the benefit of all students. 
The TRC has 94 Calls to Action, mostly directed to federal, provincial, and municipal governments but with impacts on all areas of society including education, justice, health care, child welfare, sports, archives, museums, and more. For our school division, we have been able to work towards many of these Calls to Action. In particular, #8 asks to eliminate the discrepancy between funding for on-reserve and off-reserve FNMI students. Students who live on-reserve do not get funded for pre-school like students living off-reserve. In LRSD we use grant funding to help address this inequity and have been able to support students with access to life-changing early childhood education programs.
Call to Action #12 asks for culturally appropriate early childhood education programs for Aboriginal families. In LRSD we have provided over 200 First Nations, Metis and Inuit books for kindergarten classrooms. We provide specific professional development for kindergarten teachers and have ongoing support available. We collaboratively built brain development games incorporating Blackfoot language, stories, and teachings that Dr. Robbin Gibb has incorporated into the University of Lethbridge "Building Brains Together" resources.
There is so much work for all of us to do in regards to Reconciliation and the journey is worth every step forward, no matter how small. We will continue to address the educational Calls to Action in our school division for the benefit all students.
For more information about the 94 Calls to Action and progress measures, visit CBC's Beyond 94 website.