Back to News
West Meadow Elementary: PrideCast Culture
Posted on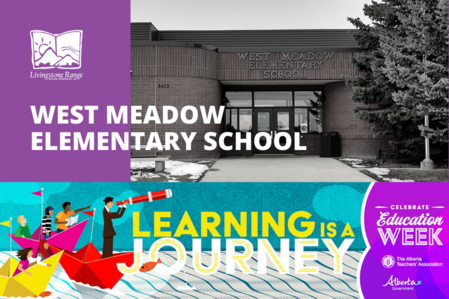 During Education Week (April 27-May 2) we are spotlighting staff and continued learning in LRSD amidst the COVID-19 pandemic.
When you think 'amazing school culture', West Meadow Elementary School comes to mind every time. The thriving culture of learning and connection that the administration and staff have worked passionately to create exists almost naturally in the Claresholm school building. So when classes were cancelled across the province on March 15, 2020, the staff knew that keeping that culture going would be an important part of their education continuity plan.
The idea for almost-daily PrideCast videos was born.
"The intention of creating the PrideCast," says Principal Sean Latta, "was to continue with the idea of connection and school culture as much as possible in the online world. We started the first day and have kept going strong. Our hope is that the videos are a place where students can check in and see a variety of teachers, being the way they always are, doing the things that they do. It allows us to continue with the school culture the students are used to."
The videos, posted to the West Meadow Elementary YouTube channel, feature Sean doing his signature fist bump with the camera in each episode plus school traditions like spirit days like March Madness, jersey day, hat day, Wellness Wednesday, and the popular pride clap. 
"We needed to continue the vibrant engagement and learning culture that we had in our building," says Sean. "That has been one of the greatest challenges working through online platforms."
They seem to have found something that works very well. In various episodes you'll find activities including a learn-to-draw tutorial where teacher Logan Kenney shows students how to draw the school's mascot Dandy the Lion, getting active in Pride PE with teacher Kendra Selk, and even estimating the number of chocolate Easter eggs with teacher Jennifer Fairs in her Math Rocks session. Assistant Principal Dana Burrows runs a spinoff with daily reading in PrideRock, reading Searching for Super by Marion Jensen. Having created 33 videos since March 16, Sean and his staff are providing not only learning opportunities for students at home, but also connection with the school and its teachers.
Sean says that teachers come up with their own ideas for what they want to share with the students in each PrideCast. "Content really has been driven by passion versus curriculum," he says. Teachers record their own videos and Sean edits each episode together. Rather than being a curriculum-based learning show, he believes in focusing on the culture of learning and connection in the videos and attempts to make learning fun for all students.
"By producing the PrideCast, we attempt to reduce the effect these times have on students becoming disconnected with our school," says Sean. "We continue to try to align with the most important part of our school - our culture of connection."
That connection is reaching beyond the students and families of West Meadow Elementary. Recently a senior citizen in Claresholm contacted teacher Dean Lindquist, a regular contributor to the show, to share that she watches the PrideCast and has nothing but compliments for the shows. And what's more, she said that she will be watching PrideCast regularly to help her when she's feeling low. 
It's that kind of positive effect that a strong school culture can have on not only a school group but a wider community. Finding ways to keep connected and promote school culture during the COVID-19 pandemic is a challenge that West Meadow Elementary has risen to - and shined at!