Back to News
What Integrity Means to Me, by Lori Hodges
Posted on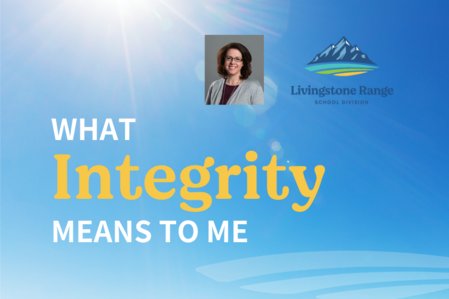 Boards of Trustees are elected to advocate for children, set priorities for school jurisdictions, and promote educational priorities within government. We are politicians who oversee the running of the school division, and as such, integrity is incredibly important. To me, integrity includes three important elements:
Being honest and doing the right thing even when no one is watching
Standing up for what I believe to be right
Being part of something bigger than myself and doing what's best for the whole
As a Trustee for Livingstone Range School Division, I appreciate the responsibility I have to model integrity through leadership, governance, and relationships. From Board meetings and school council meetings, to budget decisions, to ensuring fair and effective policies, and to developing relationships with stakeholders, I believe that honesty and integrity are essential for the greatest success of not only the Board of Trustees but the school division as a whole. 
I want to lead by example, and I know that every person in the LRSD community can do the same as an individual of integrity. Be you, be honest, don't be afraid to stand up for what you believe to be right, and enjoy being part of this organization that values integrity.
-Lori Hodges, Chair, Board of Trustees