Back to News
What Place-Based Means to Me, by Chad Kuzyk
Posted on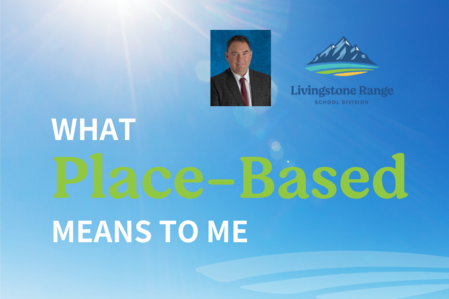 From the beginning of my professional journey of teaching and learning it was evident that place played an integral role in the learning process. Place provided the opportunity for students to think deeper and become engaged in the learning by using all of their senses to make meaning of their surroundings. 
I remember familiarizing the curriculum expectation of Trees and Forest by taking the students outside to actually experiencing the trees in the forest filling the participants with wonder which in turn fueled awareness and sense of belonging. I have seen excellence in the physical mastery on the big mountain while simultaneously witnessing a student change their impression of what school could be, dedicating the required discipline and engagement previously unknown. 
Place-based education can be a powerful tool of community partnership connecting the informal and formal learning process. Taking students outside to learn content is nothing new; however, the understanding and realization of community and its involvement in the process can be seen as an innovative strategy in rural education.
Leveraging the community in the delivery of placed-based education promotes experiences of thinking critically, solving authentic problems, developing a lens of creativity and innovation, communicating and collaborating with those in their local environment, developing local cultural understanding, and seeing oneself in the process while growing personally and developing a sense of wellbeing and identity. 
We are truly fortunate to be living in an environment as rich, accessible and diverse as the Livingstone  Range School Division. Few geographical locations in Alberta have as much to offer in the form of environmental, cultural, instructional and community presence. Embedding this as core value allows the learning community to co-create the future while fostering leadership.
-Chad Kuzyk, Associate Superintendent, Curriculum & Innovation