Back to News
Where Will Our Budget Be Best Spent?
Posted on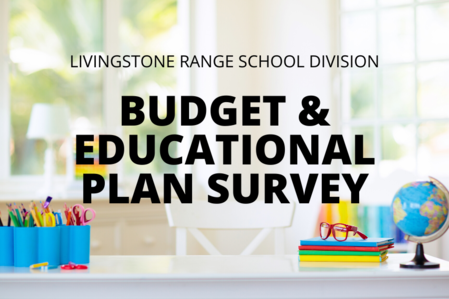 The Spring 2020 Provincial Budget's impact on Livingstone Range School Division means we will need to cut $2.2 million from our operating budget over the next 3 years. Despite changes to our funding, high-quality education for students remains a top priority in LRSD. We are now in the process of reviewing our financial landscape and making decisions for the 2020-2021 school year.
The Livingstone Range School Division Board of Trustees is seeking engagement from stakeholders as part of this process.
We want students, parents, and staff to provide input on setting priorities. What is important to you? Where do you believe dollars will be best spent? What are the key areas we should consider as we work on our 2020-2021 budget and review our 3-Year Educational Plan?
Please take our short anonymous survey. Your feedback will help us make decisions that have the greatest impact for students. The survey will be open March 12-22. 
We promise to listen to your concerns and hopes, keep you informed, and share how your feedback helped influence our decisions. 
THE SURVEY IS NOW CLOSED