COVID-19 Resources
Resources, guides, and answers for school protocols during the COVID-19 pandemic.
Check back often for updates!
LRSD COVID-19 Response Guide
*UPDATED MAY 5, 2021*
Click here for the Livingstone Range School Division COVID-19 Response Guide, which replaces the School Re-Entry Plan 2020-2021.
*UPDATED MAY/21* COVID-19 Alberta Health Daily Checklist
Government of Alberta Summer School 2021 COVID-19 Plan
ahs.ca/parentCOVIDguide
Alberta Health Services has launched a new tool to provide guidance for parents of children attending school or childcare. The tool walks through symptoms and provides information about next steps for testing and isolation, when household members need to isolate, and when children can return to school.
Alberta Health Services Resource for Schools & Teachers
Alberta Health Services provides resources for schools & teachers during the COVID-19 pandemic, including cleaning guidance, hygiene practices, masks, physical distancing, and supporting physical activity at school.
AHS Resources for Schools & Teachers
Scenario 1 School Re-Entry Plan 2020
*UPDATED June/21* Alberta Education Guidance Documents
*UPDATED NOV/20* How Long to Stay Home From School | Government of Alberta
The amount of time a student needs to stay home depends on the type of symptoms. Use this document to determine how long to stay home from school.
Stay Safe: Be a SHRIMP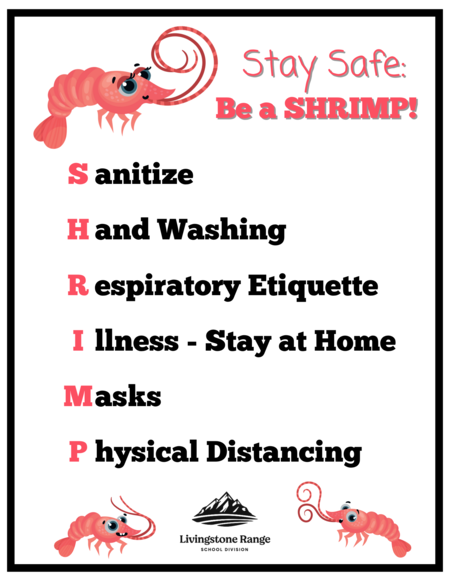 There are 6 simple things we can do as school communities to keep ourselves safe and healthy. And an easy way to remember these tips is to be a SHRIMP!
Sanitize - our school custodians and staff are regularly cleaning and sanitizing high-touch surfaces to limit the spread of COVID-19 and other communicable diseases.
Hand Washing - washing hands with soapy water for at least 20 seconds, and using hand sanitizer regularly is an important way to kill germs and stay healthy.
Respiratory Etiquette - coughing and sneezing into your sleeve OR covering your mouth and nose with a tissue and immediately disposing of the tissue in a garbage can will help stop the spread of germs that make you and other sick.
Illness - Stay at Home - anyone showing symptoms of COVID-19 must not come to school. If you are sick, stay at home, and call Health Link 811 to discuss your symptoms and possible COVID-19 testing. If students or staff become sick at school, they will isolated and parents will be contacted to pick up sick students.
Masks - wearing a non-medical face mask that covers your nose and mouth can help stop the spread of germs when physical distancing isn't possible.
Physical Distancing - wherever possible, our classrooms, learning spaces, hallways, and even playgrounds are set up to provide physical distancing. Student cohorts allow students to be with the same group and minimize physical contact with others.
Together we can help stop the spread of COVID-19 and allow students and staff to be learning together in schools.
At-Home Learning: Information for Families
Livingstone Range School Division is committed to providing high-quality instruction to all students, regardless of in-school or at-home learning. Families opting for at-home learning as of October 16, 2020 will have the ability to return to in-school instruction February 1, 2021 to ensure a smooth changeover.
Learning from home in 2020-2021 will be different than what students previously experienced. Students will be expected to learn all of their grade-level curriculum. A typical school day for children in the at-home learning environment will be similar to the length of an instructional school day, in class. The other primary difference will be an established expectation about direct instruction from a teacher, with the exception of some high school courses. The teacher may schedule live learning opportunities in an online environment as well as prepare materials to be completed at home, under the supervision of a parent. The teacher is responsible for the instruction and assessment of students. Learning from home relies on parents to encourage and supervise the day-to-day engagement of learning and completion of assignments. Students will require access to the internet and a digital device; please contact your school if you need assistance with technology. 
Students in Kindergarten to Grade 9 
Students will be enrolled in a learning-from-home teacher's class and attendance will be recorded. Classes may be multi-graded, and the teacher assigned will be instructing at-home learners. The subject areas taught are Mathematics, English Language Arts, Science and Social Studies.  Health, Wellness, and the Arts will be integrated within the regular programming.
Students in Grades 10-12 
Students will be connected to an LRSD teacher through teacher-led video conferences or asynchronous virtual learning. Students will be expected to attend learning sessions as set by the lead teacher, via video conferencing, Google classroom and Hapara, and attendance will be taken. All core courses are available to students, and there are some elective courses available through at-home learning. Grade 10, 11, 12 students and parents are encouraged to sign up for Alberta Education's MyPass website. MyPass will provide you with your child's graduation progress, a list of credits earned, diploma exam information, and the credentials still needed to graduate. Monitoring this website and working with your local school admin team will help ensure graduation success. High School students wishing to transition back to their local boundary school may do so on February 1 by communicating with the Principal. 
Services from Outside the Classroom
Regardless of the option chosen by parents (in-school or at-home learning), accommodations and adaptations for students with diverse learning needs will continue to be addressed in keeping with each student's Instructional Support Plan (ISP). Please note that the Division must ensure that government guidelines are being followed to mitigate risks to both staff and students, so all face-to-face programming will only take place in the school setting. 
For more information or to discuss your particular circumstance, speak with your school Principal.
School Bus Safety During COVID-19
During COVID-19 there are additional measures in place to ensure our students and bus drivers stay safe and well. These include:
Increased cleaning and sanitizing
Face masks are mandatory for Grade 4-12 students and bus drivers, and optional for Kindergarten-Grade 3 students
Daily Screening Questionnaire to be completed each morning before students leave their homes and board the bus
Loading front-to-back and assigned seating
Hand sanitizer is available on every bus
We expect all students to have good behavior including no pushing or shoving, no abusive or offensive language, keeping aisles clear at all times, promptly obeying the bus driver's instructions, and treating bus drivers and all passengers with respect and courtesy.
Together, we can stay safe and on time.
School Bus Information Brochure
COVID-19 Resource for Kids
VIDEOS: Returning to School Safely | Alberta Education
The Government of Alberta provides new rules for back to school with animated videos for students.
Elementary - Returning to School Safely
Junior and High School - Returning to School Safely
COVID-19 Back to School: Considerations and Tips for Parents and Caregivers | Homewood Health
LRSD's Employee and Family Assistance Plan providers, Homewood Health, share this document of things to think about as we re-start in-school learning.