COVID-19 Resources
Resources, guides, and answers for school protocols during the COVID-19 pandemic.
Check back often for updates!
LRSD 2021-2022 School Year Plan
This document has been removed as it no longer applies. LRSD continues to follow all procedures and precautions in compliance with the provincial guidelines.
*UPDATED FEB/22* COVID-19 Alberta Health Daily Checklist
 Alberta Health Daily Checklist
Scroll to Pages 3 & 4 for children under 18. Parents/guardians/students must use this questionnaire daily to decide if the student should attend school. The questionnaire does not need to be printed or handed in to school staff.
*UPDATED MAR/22* Alberta Education Guidance Documents
AHS Catch-up Immunizations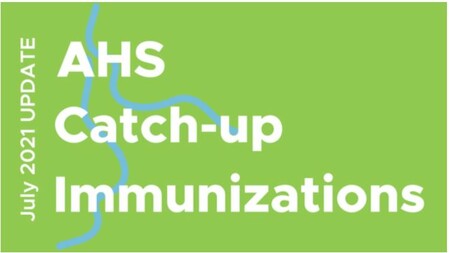 July 20, 2021
Dear parents, guardians, and students;
AHS will be providing catch up immunizations in the South Zone for students who did not receive their routine immunizations during the 2020/2021 school year. AHS Public Health appreciates your understanding while the immunization program was suspended, due to the COVID-19 pandemic response. We recognize the impact the COVID-19 pandemic has had on students, families, and school communities.
The program will begin in southern Alberta the week of July 26, 2021 and continue through August. Booked appointments will be offered at our COVID-19 clinic immunization sites, as well as at local public health offices throughout the zone. By making use of our COVID-19 clinic sites, which are already in operation, we can increase our offering of immunization to students and families before the 2021/2022 school year starts. We will still continue to provide school immunization services at the earliest opportunity, and ensure that every eligible student has access to vaccines for which they have received consent for.
Catch up immunizations are available for students who are enrolled in the upcoming 2021/2022 school year in Grades 6, 7, 8, 9 and 10. If your child is due for a routine immunization, please contact 1-888-635-0318 or call your local public health office to book an appointment. Immunization is an important way to prevent disease and protect your child's health and the health of those around them from vaccine-preventable diseases.
Immunization is an important way to prevent disease and protect your child's health and the health of those around them from vaccine-preventable diseases.
The vaccines are included as part of the Grade 6 school immunization program are Hepatitis B vaccine, which is important to prevent serious damage to the liver, and Human Papillomavirus vaccine, also known as HPV vaccine, which helps prevent against certain types of cancers. The Grade 9 vaccines include a dose of dTap vaccine, which protects against diphtheria, tetanus, and pertussis and a dose of meningococcal vaccine, which protects against meningitis. For more information, please visit - AHS Immunization | Immunization (immunizealberta.ca).
Once again, I want to thank all parents, guardians, and students for their patience with the school immunization program. Wishing you a safe and healthy school year.
With kind regards,
Allison Gonsalves, MD, FRCPC
Medical Officer of Health
Alberta Health Services, South Zone
Alberta Health Services Resource for Schools & Teachers
Alberta Health Services provides resources for schools & teachers during the COVID-19 pandemic, including cleaning guidance, hygiene practices, masks, physical distancing, and supporting physical activity at school.
AHS Resources for Schools & Teachers
Stay Safe: Be a SHRIMP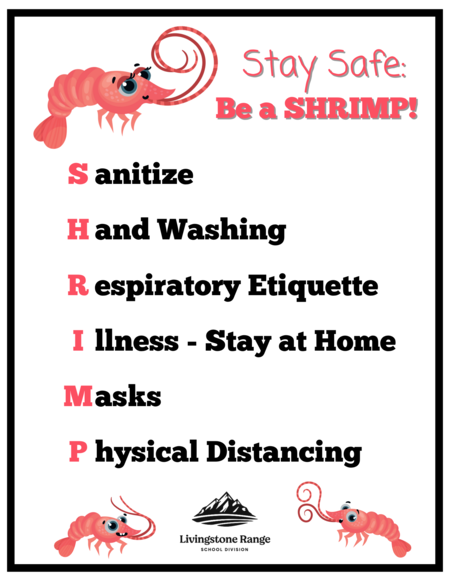 There are 6 simple things we can do as school communities to keep ourselves safe and healthy. And an easy way to remember these tips is to be a SHRIMP!
Sanitize - our school custodians and staff are regularly cleaning and sanitizing high-touch surfaces to limit the spread of COVID-19 and other communicable diseases.
Hand Washing - washing hands with soapy water for at least 20 seconds, and using hand sanitizer regularly is an important way to kill germs and stay healthy.
Respiratory Etiquette - coughing and sneezing into your sleeve OR covering your mouth and nose with a tissue and immediately disposing of the tissue in a garbage can will help stop the spread of germs that make you and other sick.
Illness - Stay at Home - anyone showing symptoms of COVID-19 must not come to school. If you are sick, stay at home, and call Health Link 811 to discuss your symptoms and possible COVID-19 testing. If students or staff become sick at school, they will isolated and parents will be contacted to pick up sick students.
Masks - wearing a non-medical face mask that covers your nose and mouth can help stop the spread of germs when physical distancing isn't possible.
Physical Distancing - wherever possible, our classrooms, learning spaces, hallways, and even playgrounds are set up to provide physical distancing. Student cohorts allow students to be with the same group and minimize physical contact with others.
Together we can help stop the spread of COVID-19 and allow students and staff to be learning together in schools.
School Bus Safety During COVID-19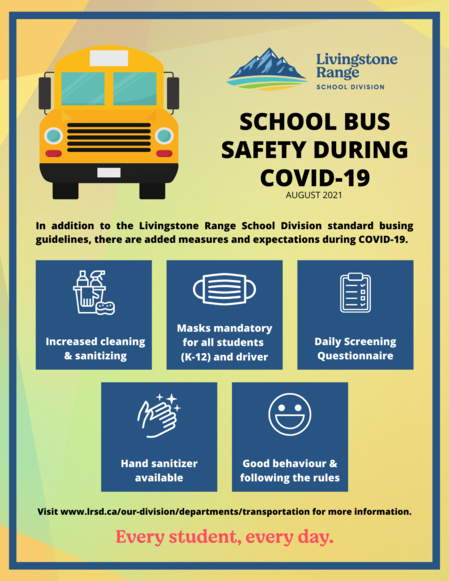 During COVID-19 there are additional measures in place to ensure our students and bus drivers stay safe and well. At the start of the 2021-2022 school year, these include:
Increased cleaning and sanitizing of school buses and high-touch surfaces
Masks are mandatory for all students (K-12) and drivers, as per CMOH Order #34-2021
All students and drive must complete the Alberta Health Daily Checklist to determine if they should attend school or stay home
Hand sanitizer will be available on each bus
We expect all students to have good behavior including no pushing or shoving, no abusive or offensive language, keeping aisles clear at all times, promptly obeying the bus driver's instructions, and treating bus drivers and all passengers with respect and courtesy.
Together, we can stay safe and on time.
School Bus Information Brochure
COVID-19 Resource for Kids