Back to News
Ben Paskal Nominated Edwin Parr Award
Posted on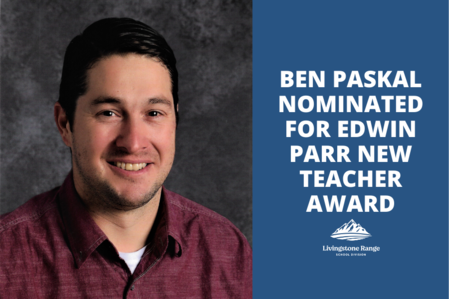 Granum School and F.P. Walshe School teacher Ben Paskal is Livingstone Range School Division's nominee for the 2022 Alberta School Boards Association's Edwin Parr Teacher Award.
The award honours outstanding first-year teachers in Alberta, and according to F.P. Walshe Principal Chad Jensen, Ben's nomination is well-deserved.
"Ben is exemplary in building positive and productive relationships with our entire school community," says Chad. "He takes the time to ensure all of his students feel a strong sense of belonging. Ben celebrates the diversity in his classroom and uses humor to connect with his students."
Granum School Principal Nick Beer agrees that Ben is already a  strong teacher. "We have asked Ben to step out of his comfort zone and expand his professional body of knowledge," says Nick, "and he has done so without hesitation. He also has an incredible rapport with students. They respond really well to Ben's caring and fun demeanor."
Ben balances teaching Art, Math, and PE to students at Granum School in the morning with teaching Math, Science, Shop, PE, and Tourism at F.P. Walshe in the afternoons. It may be overwhelming for many first-year teachers, but Ben's journey to become an educator has prepared him for just such challenges.
"Teaching has come full circle for me," says Ben, who went to university straight out of high school with the intention of combining his love of working with kids and his love of woodworking to become a shop teacher. Soon the woodworking part took over and Ben got into construction and log home building for many years. But he kept getting drawn back into working with kids, including coaching. Eventually, he was drawn back to the path he had started years earlier and Ben returned to school to pursue his Education degree. 
"Although it was a different route to the profession, I feel more prepared to be a teacher now than when I was younger, so perhaps it was meant to be this way," Ben says.

"I became a teacher because it's a very rewarding career where you get to establish relationships, be a role model, and help kids learn to learn." 
School boards across the province nominate one exceptional candidate for the Edwin Parr Teacher Award to their Alberta School Boards Association (ASBA) zone committee each year. The successful nominees from each Zone are honoured at the ASBA Fall General Meeting.
"Being nominated for this award is a surprise and an honor," says Ben. "I don't know that I've done anything different than any other first-year teacher out there, but I do appreciate it. I feel very lucky working with two amazing schools, two awesome staff, and fantastic administration at both schools."
As the 2022 LRSD nominee, we congratulate Ben and wish him the best of luck at this year's awards.  
Watch Ben's nomination video below.