Back to News
Custodian Appreciation Week, October 2-6
Posted on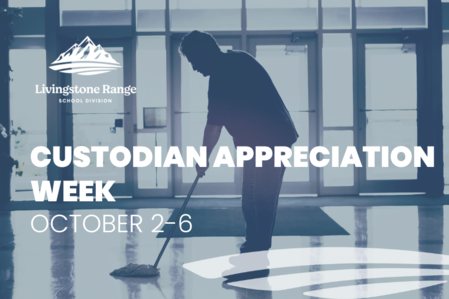 Although we all appreciate our School Custodians every day, October 2 is a nationally recognized day to show it! In Livingstone Range School Division we are showing our thanks to School Custodians for the entire week of October 2 to 6, 2023.
Our School Custodians are the first to the schools each day to ensure it is ready for all staff, students, and communities as well as the last ones to lock up each night. They work day and night to create a
Welcoming, Safe, and Caring learning environment.
Thank you to all of our School Custodians for contributing to our vision of 'Every student, every day.'
Fun Facts
Did you know.... the word 'custodian' is derived from the Latin word custodia meaning 'guarding, watching, keeping'?
Did you know.... the first vacuum was invented by Englishman H Cecil Booth in 1901? It was called a suction cleaner. In 1920, an Ohio custodian named James Murray Spangler created a carpet sweeping contraption out of a soap box, a broom handle, a pillow case and an electric motor. He sold the machines to local housewives – one of these housewives was Susan Hoover! Her husband, William, mass-produced the machines and purchased the rights to Spangler's design. He created the Hoover Electric Suction Sweeper Company. James Dyson made modifications in the 1970's. The first robotic vacuum cleaner was manufactured by Electolux of Sweden in 1996?
Did you know....Lysol antiseptic disinfectant was introduced in 1889 to help end a cholera epidemic happening in Germany?