Back to News
Every student, every day - Mrs. Guitton's Amazing Days
Posted on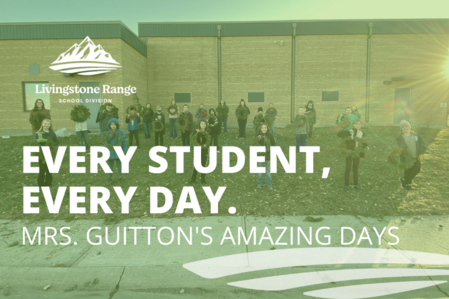 In November 2021, Stavely Elementary teacher Julaine Guitton saw a social media post that there were only 45 days left in the year and a challenge to make the most of those 45 days.
Julaine took the idea to her Grade 5/6 split class. The students used math to calculate how many calendar days and how many school days remained until the end of the year. Then, inspired by her June 2021 Wish Jar where students wrote a school year-end wish, the students, student teacher, and Julaine shared their ideas of what would make the last days of 2021 amazing.
"All our students need someone or something everyday," says Julaine. "Especially at this time of year when we are so busy and sometimes things are hard at home. I want kids to come to school to something amazing."
The class determined to have 20 Amazing Days to close out 2021. Throughout the week, Julaine chooses ideas from their list - such as getting an extra 20 minutes of volleyball, an in-school puppy visit, or having more time for art - and sometimes ideas just present themselves. Like when a neighbor's tree blew down in a recent wind storm and Julaine asked if her class could have it to make Christmas wreaths. With some instruction from LRSD bus driver Edmond Duguay, Julaine and the students spent a beautiful November afternoon outside creating together.
"We talked about leaf patterns and coniferous and deciduous trees," says Julaine. "But more than the science lesson, what the students and I will really remember is being side-by-side with one another, talking and being real."
On other Amazing Days, the class had a live, on-camera art class with the Robert Bateman Foundation, learning to draw owls. They also painted ornaments for the Stavely town Christmas tree, and have had some extra time on the Dreamscape game reading program. 
Julaine's belief in the Livingstone Range School Division vision of "Every student, every day" focuses not on outcomes, but on nurturing her students. "Everything in nature grows in its own time and season," says Julaine. "Our job as educators is to provide the best environment for growth, and the harvest will come at the right time."
If — make that when — the class reaches their goal of 20 Amazing Days, they've decided to have a hot chocolate bar with cocoa and toppings. Which sounds like it will actually be twenty-one amazing days.
Mrs. Guitton's Amazing Days