Back to News
F.P. Walshe Student Selected for Education Minister's Youth Council
Posted on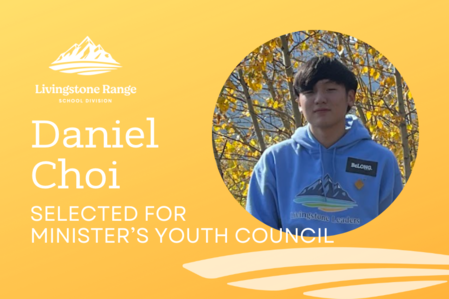 Grade 12 F.P. Walshe School student Daniel Choi will represent students and rural communities at the provincial level as he serves on the 2023-2024 Education Minister's Youth Council (MYC).
"I believe the Minister's Youth Council is very influential in shaping the future direction of education in Alberta, and I wanted to make sure that voices from our community were part of the change-making process," says Daniel.
This year, Alberta Education received 183 applications from junior and senior high school students across Alberta for the MYC,  which gives 40 students the opportunity to share perspectives on provincial programs and initiatives. Daniel has leadership experience at the local level, as a part of the F.P. Walshe Leadership Council and the Division-wide student leadership group, Livingstone Leaders.
"Joining the Minister's Youth Council seemed like the perfect opportunity for me to speak about the concerns and perspectives of my peers," Daniel says, "which I learned through numerous leadership councils."
F.P. Walshe Principal Chad Jensen recommended Daniel apply for MYC. "Daniel is an amazing young man who has shown incredible ambition and initiative as a young learner," says Chad. "In addition to being a strong academic student, Daniel exhibits characteristics of integrity, honesty, and care for others that will take him far in the future."
MYC meets with Education Minister Demetrios Nicolaides in Edmonton three times during the school year, and Daniel will be headed to the provincial capital from October 13 to 15 for the inaugural meeting. MYC students build their leadership skills at the provincial level, make an impact on education, and leave a legacy for the future.
Daniel is very grateful for this opportunity and all those who helped him get to this point. "I am genuinely thankful to add inputs from our school division on the future-shaping Minister's Youth Council," says Daniel. "I am looking forward to learning experiences and hopefully making some positive impacts through this opportunity. I want to especially thank my principal, Chad Jensen, who always supported me and recommended that I apply to the program. I also want to express my gratitude to my school's leadership team and the Livingstone Leaders for their unwavering dedication and hard work to make positive differences in our community."
Principal Jensen adds, "F.P. Walshe School is very proud of Daniel and he will be a great addition to the Minister's Youth Council."