Back to News
Funding for Nanton Schools
Posted on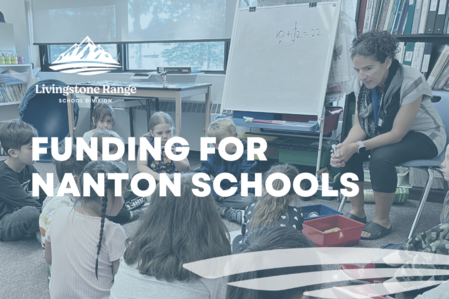 Today, Education Minister Adriana LaGrange announced provincial funding for new, replacement, and modernized schools in Alberta. The announcement included approved design funding for Kindergarten to Grade 12 schools in Nanton.
"For nine years the Board of Trustees has advocated Alberta Education for new and modernized schools in Nanton," says Lacey Poytress, Board Chair. "Today we are thrilled that the government will fund these projects that will so greatly benefit the students, families, and community of Nanton."
The approved design funding includes the preparation of construction tender documents such as drawings, specifications, and permits. Construction funding will be approved in a future budget. Livingstone Range School Division will receive more detailed funding information from Alberta Education in the coming weeks and will share project plans as they become available.
"This crucial investment will provide 21st-century learning facilities to help our students grow and prepare for the future," says Lacey. "We look forward to collaborating with key stakeholders as we move forward on this project."
Nanton is one of 20 Alberta school design projects announced by the Minister, along with 13 full construction, 14 planning, and 11 pre-planning projects. For more information, visit www.alberta.ca.