Back to News
Grade 6 Students Visit Provincial Legislature
Posted on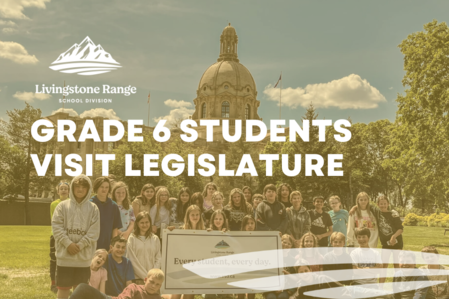 Grade 6 students from Canyon School visited the provincial capital earlier this month and visited the Legislature.
On June 1, 2023 students and teachers traveled from Pincher Creek to Edmonton and got to spend time at West Edmonton Mall, enjoying the World Waterpark and shopping. The following day, the group visited the Alberta Legislature, participating in a mock debate, watching a movie at the Pehonan Theatre called "Our People Our Province" which shares the social and political history of Alberta, and took a tour of the Legislature. The trip supports the Grade 6 Social Studies curriculum learning about democracy and how it works in Alberta. 
Teacher Derek Shackleford said it was a great way to connect what students are learning in class with the real world. "We are excited to plan again for next year's grade 6's."
The students posed for a picture on the Legislature grounds, holding their school's 'Every student, every day' banner. It's a trip these young people won't soon forget.