Back to News
NEW DATE! Granum School Engagement Session March 27
Posted on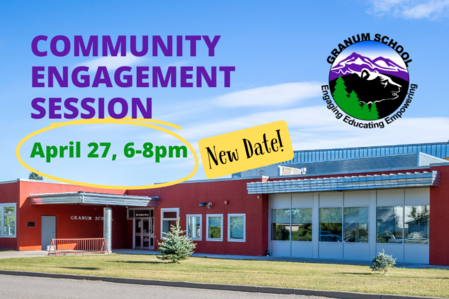 We apologize for having had to cancel the March 27 community engagement session, and are pleased to announce the rescheduled date of April 27, 2023 from 6 to 8pm. The details of the meeting are updated below, and we look forward to meeting with our stakeholders at this event.
The Livingstone Range School Division Board of Trustees thanks all those who provided input at the December 12, 2022 Granum School Engagement evening as well as the written submissions. The Trustees have reflected on the engagement session and the subsequent correspondence received and invites you to continue the conversation on the future viability of Granum School by attending another Granum School Engagement session. 
The April 27, 2023 Granum School Engagement evening will focus on three topics for consideration:  
Reconfiguration to K-6, 
Exploration of Christian-based programming, and 
An academy focus. 
Members of the Granum School Community including the public are invited to attend these focused conversations where further details will be shared and discussed. Participants will engage in these three topic areas through a facilitated table conversation. 
Thursday, April 27, 2023
6:00 PM
Granum School
Following this engagement meeting, members of the public will have the opportunity to provide written submissions to the Board of Trustees for consideration. Written comments can be sent to hello@lrsd.ab.ca.  In addition, individuals can contact their local Trustee. 
The Board of Trustees welcomes your continued engagement on the future viability of Granum School and looks forward to meeting with the community on April 27, 2023.