Back to News
Jackie Takacs: Beloved Division Office Accounting Clerk
Posted on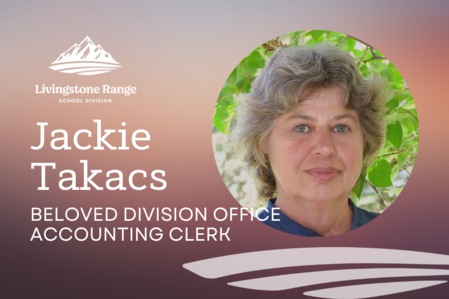 With great sadness, we announce the passing of Livingstone Range School Division accounting clerk Jackie Takacs, who passed away on October 10, 2022 after 25 years with the Division.
Jackie began her career with LRSD in 1997 as secretary at Division Office in Claresholm and part-time as F.P. Walshe School secretary. In 2000 Jackie became the Division's full-time receptionist/secretary and began accounting clerk duties in 2013. She was well-suited to the accounts payable work and brought a strong work ethic, playful spirit, and good sense of humor. Jackie was the first person in the accounting department every morning and any time you asked her how her day was going she would update you on her dogs and without fail, let you know she was "living the dream".  
Jackie went above and beyond, especially over the last year or so when she had to take some time off. Not wanting to leave her team short-handed, the Finance Department would get emails from her bringing something to their attention that only she knew needed to be done.  Jackie cared deeply about people and her husband John says that she spoke fondly of her coworkers. She was very appreciated at Division Office, especially by her Finance Department team.
As a School Division community, our thoughts are with Jackie's family and loved ones. She will be greatly missed.