Back to News
Jill Klapp Named Asst Principal at WCCHS
Posted on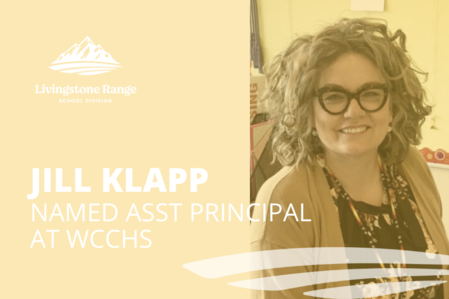 Livingstone Range School Division is pleased to announce that Jill Klapp has been named Assistant Principal of Willow Creek Composite High School (WCCHS) in Claresholm beginning in the 2022-2023 school year. She will serve with newly appointed Principal, Robert Rodgers. 
Jill holds Bachelors of Arts and Education degrees from the University of Lethbridge and is currently pursuing her Master's of Education in Curriculum and Assessment, also at the University of Lethbridge. She has been teaching for 15 years, and has served as Assistant Principal and Learning Support teacher at Crowsnest Consolidated High School for the past 4 years.
"Jill is a collaborative leader who will contribute to the positive school culture of WCCHS," says Richard Feller, Associate Superintendent of Human & Learning Services. "We are confident that she will bring a terrific energy that will promote student success."
Willow Creek's new Principal, Robert Rodgers is pleased to team up with  Jill beginning this fall. "I have had the privilege of working with Jill in the past," says Robert. "and know her as a person of integrity, a master teacher, and a student-centered administrator. I believe she is an excellent fit for WCCHS and I am very excited that she accepted the invitation to join us in Claresholm."
With happy anticipation, Jill looks forward to working as part of the new administration team at the school. "I am excited to be afforded the opportunity to work with the staff, students, and communities of Willow Creek," says Jill. "I have had the privilege of working with members of the WCCHS instructional staff in the past as well as under the leadership of Mr. Rodgers."
Jill enjoys fly fishing with her husband on the rivers of the Elk Valley, and feels privileged to watch her children grow as student athletes and leaders. She enjoys the outdoors and time with family and friends.
Congratulations to Jill on her leadership role.