Back to News
Jillian Spencer Named Assistant Principal of J.T. Foster High School
Posted on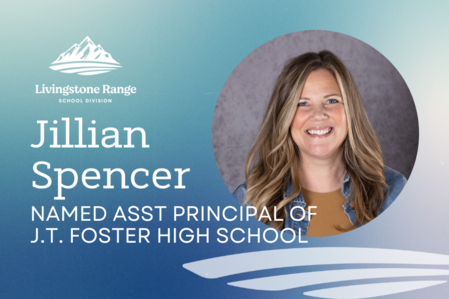 Livingstone Range School Division is pleased to announce that Jillian Spencer has been named Assistant Principal of J.T. Foster High School in Nanton beginning in the 2023-2024 school year. 
Jason MacDonald, who will assume the role of Principal at J.T. Foster High School this fall, is thrilled to have Jillian join the team. "Jill brings a wealth of professional experience and education," says Jason. "She is a dedicated educator and a loyal member of the Nanton community. Her values in leadership, innovation, relationships, and commitment to student learning make her a valued asset to any organization."
Jillian holds a Bachelor of Education degree from the University of Lethbridge and a Masters of Educational Administration and Leadership degree from the University of New Brunswick. She has taught at A.B. Daley Community School in Nanton for the past 13 years, serving as Literacy Lead, First Nations, Métis, and Inuit Lead, and Inclusion Lead. She has also been part of the Livingstone Range School Division Inspiring Leadership cohort.
Jillian expresses her gratitude to serve in the Nanton school community as Assistant Principal at J.T. Foster. "I am enthusiastic about reconnecting with many students and families whom I have worked with at A.B. Daley," says Jillian, "and am excited to build relationships with those students and families I have yet to meet. Working alongside staff at J.T. Foster to continue delivering an exceptional education, and strong school culture for our students, is something I am really looking forward to for years to come."
Raising three children with her husband in Nanton, Jillian and her family stay busy with hockey, 4H, and playing at the park with their dog. They also enjoy camping, playing board games, and spending time with their large extended family. Jillian's favorite thing is reading her book on the front porch in the morning. 
Congratulations to Jillian on her new leadership role at J.T. Foster High School.