Back to News
Joel Gamache Supporting First Nations, Métis, and Inuit Programs
Posted on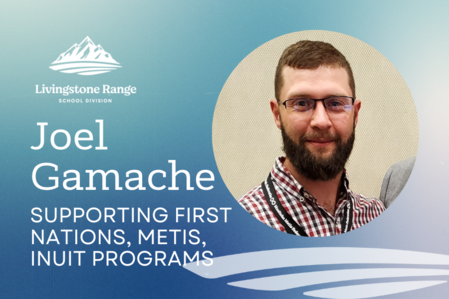 Livingstone Range School Division is pleased to announce that Joel Gamache, Place-Based Learning Supervisor, is now supporting First Nations, Métis, and Inuit programs in the Division.
Joel is a Red River Métis who holds a Bachelor of Education degree from the University of Winnipeg and is finishing a Master's Degree in Educational Leadership at St. Francis Xavier University in Nova Scotia. He is one of two LRSD Place-Based Learning Supervisors and the Principal for FACES Summer Education Program. He has worked with LRSD since 2017 and has a passion for supporting students and outdoor education. 
In his new role overseeing the First Nations, Métis, and Inuit portfolio, Joel will support student achievement by engaging in collaborative, whole-school approaches to capacity building in First Nations, Métis, and Inuit education; support Blackfoot language and indigenous culture implementation in schools; provide coaching support and coordinate professional development opportunities for staff to meet First Nations, Métis, and Inuit programming needs; and much more. 
"Joel's professional and personal experiences will add tremendous value to student success in Livingstone Range School Division," says Richard Feller, Associate Superintendent of Human and Learning Services. "The programs, supports, and teachings Joel will coordinate will benefit not only First Nations, Métis, and Inuit students but each of us in our broader educational community in our commitment to Truth and Reconciliation."
Joel is an active ambassador with the Ruperts Land Institute, participates as a Métis Federation and Nation member, and is active in traditional Métis practices. Joel spends much of his time with his family and Elders enjoying the natural gifts shared from the outdoors.  
As an educator, Joel believes that we can gain knowledge through experiences and stories. "I can credit my educational approach to the traditional teaching style of my family," says Joel. "Education through experiences, mentorship, and morals through a story all play a large part in how I learn and teach. There is sacredness in sharing." 
Congratulations to Joel on his new responsibilities.