Back to News
LRSD Divisional Day 2021
Posted on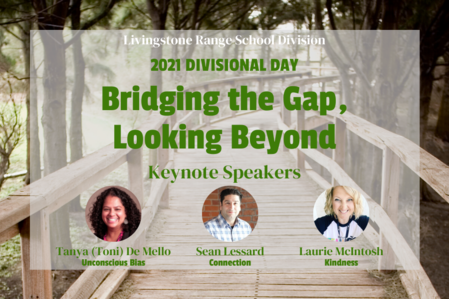 Following a challenging "normal year" start up in a year that is certainly not back to pre-COVID normalcy, staff in Livingstone Range School Division were reminded of the importance of inclusion, connection, and wellness in our annual Divisional Day on November 8, 2021.
Although typically in-person, the 2021 LRSD Divisional Day was held virtually for nearly 500 staff across the jurisdiction. The theme "Bridging the Gap, Looking Beyond" pointed to the last 20 months of education during a pandemic and looking to the future with a positive focus. Keynote speakers included:
Dr. Tanya "Toni" De Mello - human rights lawyer, university administrator and lecturer, civic leader, certified coach, and mediator who spoke about unconscious bias and getting us to think deeply about how we see our world and interact with one another.
Dr. Sean Lessard - University of Alberta professor & International-award winner for his work with indigenous young people who read his soon-to-be-published graphic novel "Bubbling Up", teaching us that we all have stories deep within and how important it is to create space so that we can each tell our stories.
Laurie McIntosh - teacher, blogger, and co-author of Teachers These Days, connecting theory, practice and the power of kindness, Laurie brought teachers together in community, defining and exemplifying what it truly means to be a "teacher these days."
Breakout sessions helped address practical issues for staff, such as:
Safe playgrounds and WHMIS Review (with Laura Stocker)
Provincial Approach to Student Information (PASI) for Admin Assistants (with Melanie Housenga)
Protecting your mental wellbeing (with Lisa Everitt, ATA Executive Staff Officer)
Journey from teacher to writer (with Eric Walters, teacher and author)
Teachers, Educational Assistants (EAs), school administrative assistants, Division office staff and administration, and maintenance staff appreciated the relevant and intentional professional and personal development throughout the day.
Staff on LRSD's Professional Development Council, led by teacher Lesley Margetak and Associate Superintendent Chad Kuzyk, worked tirelessly to prepare the day's inspiring and uplifting sessions. A huge thank-you to everyone involved in making Divisional Day 2021 such a huge success.