Back to News
Measurement Survey 2023 Results
Posted on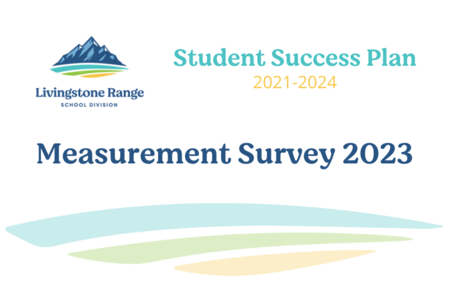 Thank you to all of our staff, parents/guardians, and Grade 5 & 11 students who participated in our 2023 Student Success Plan Measurement Survey. From May 10 to 19, 2023, these stakeholder groups were invited to provide feedback on progress toward select goals in the Livingstone Range School Division's Student Success Plan 2021-2024. This is the second school year that the plan has been in place and this Measurement Survey is our second opportunity to reflect on how we are doing.
832 respondents provided feedback to questions in our priority areas of Safe & Caring, Engagement, and 21st Century Knowledge, Skills, and Attributes (Life Skills). We are pleased to report the results.
80% of students, parents, and staff responded that opportunities for student leadership and voice are integrated into the culture of their school. Through student leadership clubs, student councils, Livingstone Leaders, and leadership experiences in classrooms and schools, students can be actively involved and heard in LRSD schools.
More than 76% of respondents are aware of programs and initiatives at their school that help students become respectful, caring, and productive citizens. Some of these programs include Leader in Me, Kelso's Choices, the Third Path, as well as monthly themes, special days, and guest speakers. 
Nearly 70% of students, parents, and staff are aware of student community service opportunities at their school. Food bank drives, fundraisers for local needs, and community clean-up/improvements are examples of ways our students can provide services in their communities through schools.
Detailed results of the survey will be shared with Division Office and school-based departments as we work toward continuous improvement and success for "Every student, every day."
Click here to see a report of the 2023 Measurement Survey.