Back to News
MHHS Students Benefit from Hockey Academy
Posted on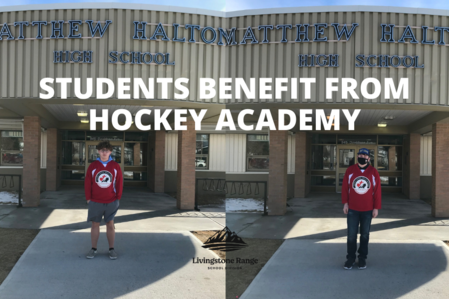 Students at Matthew Halton High School might not be able to be on the ice this year due to the COVID-19 pandemic, but that doesn't mean they aren't still benefitting from the school's Hockey Canada Skills Academy.
Damian Beswick (Grade 8) and Jaydon Draper (Grade 9) continue to practice skills and participate in dryland training with their classmates, eager to get back on the ice whenever restrictions are lifted. The two students were recently featured in an article for Hockey Canada, sharing their experiences and passion for both the sport and the Academy.
"The Hockey Canada Skills Academy is a great program to get students excited about coming to school," says Bryan Burns, Assistant Principal at Matthew Halton High School. "Learning goes beyond shooting, passing and skating, as students learn important skills related to teamwork and communicating with one another."
Both Matthew Halton's and J.T. Foster High School's Hockey Academies allow students in Grades 7 through 12 an opportunity for skills development, leadership, and connection. In non-COVID years, students receive 65 hours of on-ice training from a Hockey Canada Skill Program instructor with weekly ice time embedded in their academic calendar. A fee of $150 also includes a practice jersey, socks, and t-shirt.
"Our students and staff are very appreciative of the hard work the Pincher Creek Rec staff put in to ensure our program can operate," says Bryan. "Anytime students can explore their learning through their passions is a win!"
For more information about Matthew Halton High School's Hockey Academy, contact the school at 403-627-4414.