Back to News
Model UN Project Gives Real-World Skills
Posted on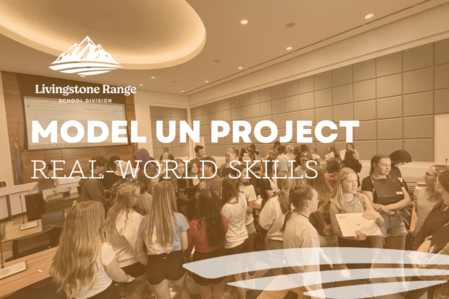 Fifty-five countries of the world were represented by sixty Grade 10 students at the second annual Model UN Project on June 13, 2023. Debating a mock resolution that developed nations contribute a percentage of their GDP to regions of South America, Africa, and Asia, the students represented various countries and lobbied to build support for amendments before the vote on the final resolution.
"It's an incredible way for students to explore real issues about global disparity, engage in evidence-based debate, and balance local interests and global needs," says Rob Tkachuk, social studies teacher at Crowsnest Consolidated High School. "These students are passionately debating with and actively listening to their peers."
Rob has been running Model UN with his students for a decade but says it's so much better with a large group of students. This year three Livingstone Range School Division high schools are participating (Crowsnest Consolidated, Matthew Halton High School, and Willow Creek Composite High School), and the goal is to have all of the high schools involved next year.
Willow Creek Comp social studies teacher Merry Franz says the Model UN Project is a friendly space to exhibit student learning. "The students sharpen their learning and it raises the bar for them," she says. "Some realize they should have done more research about their representative country, while others are confidently prepared to debate and seek allies."
The one-day event took place in the Council Chambers at the G.R. Davis Administration Building in Fort Macleod. The room, Rob says, has the feel of the actual UN. "It's a great space where we can set things up like the United Nations in New York so students get a really unique experience."
Moderated by J.T. Foster High School teacher Jason Porteous, the students were actively engaged throughout the day in working with and against each other, all in the name of active learning. Depending on the class, students may use this Model UN as a capstone final project or may have final exam questions about the whole project. 
"Discussing and finding solutions to real issues is an important skill for students to develop," says Rob. "Collaborating like this with students and teachers from across our Division is in itself modeling how we can work together to for the greater good, just like the United Nations."
Model UN 2023