Back to News
Nanton Schools Advisory Committee Update
Posted on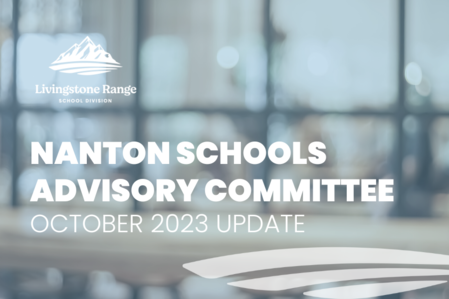 The Nanton Schools Advisory Committee, consisting of Livingstone Range School Division (LRSD) Administration and Trustees, Town of Nanton Council members, the Municipal District of Willow Creek, and the Municipal District of Ranchland met on October 19, 2023.
We are currently in the design phase of the New and Modernized Nanton Schools project, working with GGA-Architecture. The funding from Alberta Infrastructure provides for the following:
Newly constructed elementary school:
255-student capacity (current A.B. Daley Community School enrolment: 189)
Newly designed learning commons and flexible ancillary spaces for music, art, and more. Option to add on classroom space should the community population increase in the future.
430 square metre gymnasium, suitable to meet the needs of K-6 phys ed classes
Modernized high school:
352-student capacity (current J.T. Foster High School enrolment: 200)
Modernized flexible ancillary spaces for career and technology programming which may include space to accommodate trades programs, a science lab, multimedia courses, band, art, or drama programming. A fitness area, commercial kitchen, and food service area as well as a common gathering space at the school entrance are being considered in the overall design.
Maintain the 667 square metre gymnasium, with spectator seating
LRSD has engaged with the Nanton community during this project to explore potential partnerships that would benefit the community's use of school facilities. In this design phase, there is an opportunity for enhancements such as increased gym size and adding an early learning space. These enhancements are of necessity community-funded. If you represent a group interested in partnering for enhancements, contact us at hello@lrsd.ab.ca by November 6, 2023.
Future Nanton Schools Advisory Committee meeting dates are November 14, 2023, January 8, 2024, and  March 12, 2024. Additional meetings will be held as needed. We are pleased to share a visual timeline of the New and Modernized Nanton Schools project on our website: www.lrsd.ca/nantonschools.