Back to News
New Administration Team at Matthew Halton High School
Posted on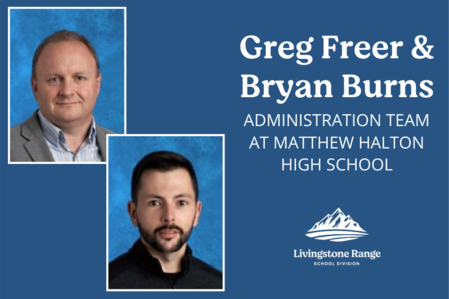 Livingstone Range School Division is pleased to announce that Greg Freer has been named the Acting Principal and Bryan Burns the Acting Assistant Principal of Matthew Halton High School (MHHS) in Pincher Creek. Former MHHS Principal Tara Tanner's move to become the LRSD Division Principal of At-Home Learning & Home Education means a new administration team for the school. 
"The staff, students, and families of Matthew Halton High School are in good hands with Greg and Bryan," says Superintendent Darryl Seguin. "Both have leadership experience and have a team approach that will continue the culture of collaboration at MHHS."
Greg has been the Assistant Principal at MMHS for 4.5 years and has 27 years of teaching and leadership experience as a Humanities teacher, academic advisor, and student council advisor, and is a member of the LRSD Administration Leader to Leader Committee. He holds a Bachelor of Education and Masters of Education in Educational Leadership, both from the University of Alberta.
"I am excited to continue to build upon the great things happening at Matthew Halton," says Greg. "We appreciate our community partnerships and are honored with the trust and support from our families. We will continue to strive to provide the best possible educational experiences for our students." 
Bryan, a teacher at MMHS since 2015, holds an Honours Bachelor of Arts and Honours Bachelor of Education from Lakehead University in Thunder Bay Ontario. He has worked as a Learning Support teacher, junior and senior high teacher, Outreach teacher, and professional development chair. Bryan was responsible for bringing the first Hockey Canada Skills Academy to the Division and currently runs the program. 
"I am excited to step into the role of Assistant Principal at Matthew Halton for many reasons," Bryan says. "However the thing that stands out to me is our great staff and amazing students. Our school is extremely fortunate to have staff that can offer so many meaningful programs due to their widespread experience. I look forward to continuing to make Halton the great school it is!" 
Congratulations to Greg and Bryan on their new leadership roles at Matthew Halton High School.