Back to News
Nick Beer Named Principal of W.A. Day School
Posted on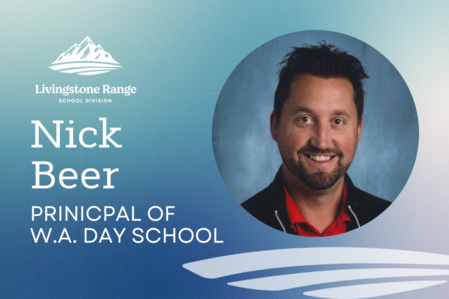 Livingstone Range School Division is pleased to announce that Nick Beer has been named Principal of W.A. Day Elementary School in Fort Macleod, beginning in the 2023-2024 school year.
Nick holds Bachelor of Science and Bachelor of Education degrees from the University of Lethbridge and a Masters of School Improvement and Leadership also from the U of L. He has been the Principal of Granum School for the past four years and Colony Schools for the past three years, and served as Acting Assistant Principal at both West Meadow Elementary School (Claresholm) and F.P. Walshe School (Fort Macleod).
"We are excited to have Nick move into the role of Principal at W.A. Day," says Richard Feller, Associate Superintendent of Human and Learning Services." Nick brings a strong student-centered ethic and is a champion of the Leader in Me process. We look forward to continued excellence at W.A. Day Elementary School!"
Nick is enthusiastic about contributing to the school and community in this role. "I am very excited to be joining the W.A. Day team," says Nick, "and to once again be working with the families in the Fort Macleod community."
When he's not at school, Nick enjoys playing hockey, soccer, and golf and spending time with his family, who have been part of the Fort Macleod community for 16 years.
Congratulations to Nick on his new leadership role!