Back to News
Paul Pichurski New Principal of CCHS
Posted on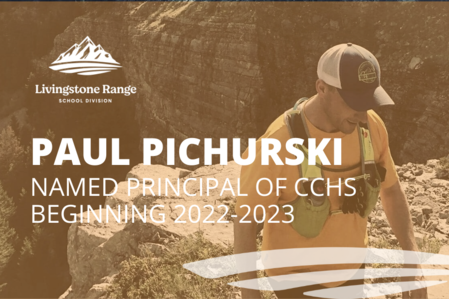 Livingstone Range School Division is pleased to announce that Paul Pichurski has been appointed Principal of Crowsnest Consolidated High School (CCHS) beginning in the 2022-2023 school year.
Paul holds a Bachelor of Music Education Degree from the University of Regina and a Masters of Educational Technology from Boise State University. A teacher since 1998, Paul joined LRSD in 2001 and has taught all grade levels from Kindergarten to Grade 12. He has previously worked as Assistant Principal and Principal of Isabelle Sellon School, interim Principal of CCHS, and has been the Principal at Canyon School in Pincher Creek since 2017.
"Paul has shown tremendous leadership in Livingstone Range School Division as both a teacher and administrator," says Superintendent Darryl Seguin. "He develops strong relationships and creates community wherever he goes, and we are confident that his previous experience will build on the  culture of trust and collaboration at CCHS and the communities of the Crowsnest Pass."
Looking forward to his new role, Paul also reflects on his recent administration experiences. "I have appreciated my time working with the Canyon School community over the last five years," says Paul,  "and the relationships I have developed and the learning I have experienced here. I also look forward to returning to Crowsnest Consolidated High School and for a new opportunity to build positive relationships and work collaboratively with students, families, staff, and community to support student learning and school improvement."
An avid outdoor enthusiast, Paul appreciates the many opportunities available for trail running, mountain biking, and skiing in the Crowsnest Pass and area.  He also enjoys creating and performing music with family and friends and volunteering for community organizations. 
Congratulations to Paul on his new role.