Back to News
Students Put Out Wildfire Near CCHS
Posted on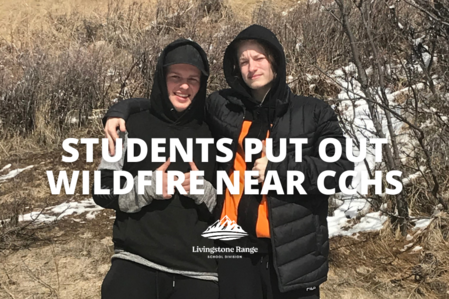 Two Grade 10 students from Crowsnest Consolidated High School had an intense out-of-classroom experience with place-based learning.
On March 22, 2021 Jesse Seltenrich (pictured, left) and Jakub Emond (pictured, right) were out on a lunchtime walk when they came upon a wildfire up the slope from their school. Seeing the fire, believed to be caused by a campfire that was not properly put out, the boys quickly took control and attempted to extinguish the fire.
"The actions that Jesse and Jakub took to try and control the fire without tools and the confidence and courage it took to report the fire as well as to wait for me to arrive and guide me to the location contributed to the containment and eventual extinguishment of the fire and prevented this fire becoming a significant event," says Don Pitt, Forest Officer with Alberta Agriculture and Forestry. Don works out of the Blairmore office and arrived on scene to finish putting the fire out.
"On behalf of Agriculture and Forestry and myself, I would like to thank Jesse and Jakub for their actions," Don says.
The students missed at least one afternoon class as they stayed to help control the fire and wait for help to arrive. But rather than being in trouble for missing school, CCHS Principal Christine McKie is impressed with the maturity and quick-thinking Jakub and Jesse showed. "Understanding that the fire was getting out of control and having the wherewithal to call for help and stay until help arrived showed real maturity and concern for our community," says Christine. "An excellent place-based learning experience that they will remember for the rest of their lives!" 
"I'm proud of the boys and I know I can speak on behalf of all CCHS staff in congratulating Jesse and Jakub on a job well done!" says Christine. 
Thank you, Jakub and Jesse!