Back to News
Summer School Registration Now Open
Posted on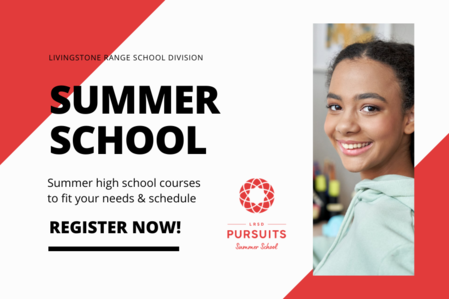 Are you a high school student looking to free up your fall/winter schedule? Do you need an extra course to graduate? LRSD Pursuits Summer School offers more than 40 online courses to fit your needs and schedule.
"Many students are looking to earn credits to graduate sooner or recover credits to stay on track for graduation," says LRSD Pursuits Principal Tara Tanner. "Summer school puts students in the driver's seat of their own education."
Students can earn up to 10 high school credits with our online courses. In-person options in Fort Macleod are also available for those students who want additional support.
Registration for LRSD Pursuits Summer School opens March 1 for summer school dates of July 5-30, 2021. Visit our Summer School page for a full list of course offerings and registration forms.