Back to News
Thank You, Subs!
Posted on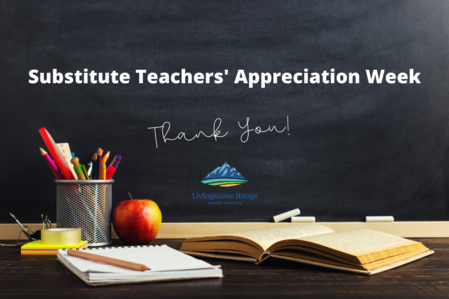 In Livingstone Range School Division we love our substitute teachers! Substitute teachers provide continuity for students and contribute to excellence in the learning process.
Superintendent Darryl Seguin shares this message of appreciation for the excellent substitute teachers in LRSD:
"I am so grateful for the contributions of our substitute teachers. They fill in for us at the last minute, for short and long periods of time and they are always so flexible and accommodating as they help us achieve our vision of Every Student, Every Day!
"Substitute teachers are an integral part of our organization and the high-quality education provided to our students. We want them to know how much they are appreciated, especially given the support and relief they've provided for our teachers during the pandemic. The work they do allows our students to continue with their education when their regular teachers are involved in professional development, collaborative meetings, or absent for medical reasons."
March 8-12, 2021 is Substitute Teachers' Appreciation Week in Alberta. This week - and throughout the year - we are grateful for the valuable service these teachers provide in schools across our Division. Thank you!