Back to News
Thank You to Our Indigenous Leaders
Posted on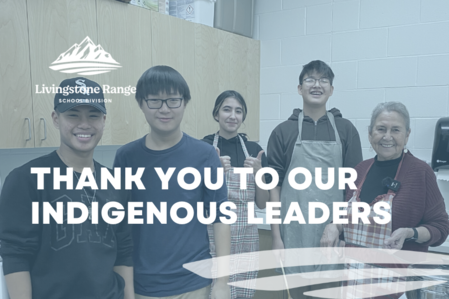 We are exceptionally blessed in Livingstone Range School Division to have indigenous leaders who share their time, wisdom, skills, and care with us. As the school year draws to a close, we gratefully acknowledge the contributions of our Elders in Residence: Bryan Yellow Horn and Jaron Weasel Bear (Knowledge Keeper) at Matthew Halton High School in Pincher Creek; Joe Eagle Tail Feathers, Betty Ann Little Wolf, Morris Little Wolf and Jaron Weasel Bear (Knowledge Keeper) at F.P. Walshe School in Fort Macleod; and Sheldon Day Chief and Arnold Mountain Horse at W.A. Day Elementary School in Fort Macleod. These individuals have been influential in developing our cultural programming; their help and guidance throughout the year are invaluable. We couldn't have done it without you.
We also wish to thank a large number of other individuals who have been guest speakers, volunteers, and helpers during the 2023-2024 school year. Their contributions have demonstrated the significance and importance of foundational knowledge.
Events such as Orange Shirt Day, Métis Week, Blackfoot Culture Series, Truth & Reconciliation events, Career Day, Land Camp, and National Indigenous Peoples Day celebrations, as well as the daily experiences in classrooms, would not be possible without the support of our local indigenous leaders.
To our First Nations, Métis, and Inuit working group and Division leaders Joel Gamache, Sherri Terpstra, and Bonnie Whitford, we extend a special thank you for all you do for 'Every student, every day'.
Indigenous Leaders 2023