Back to News
W.A. Day Now a Lighthouse School
Posted on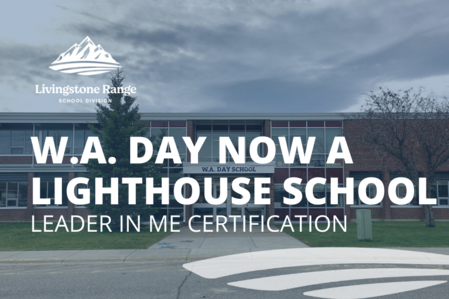 On March 31, 2022 W.A. Day School underwent a Lighthouse Milestone review with two individuals from Franklin Covey Education.
We are proud to announce that the school has been awarded the status of Leader in Me Lighthouse School! The Lighthouse Certification is a highly-regarded standard set by Franklin Covey that is attainable by every Leader in Me school who shows exemplary practices by implementing the process with fidelity and excellence. It is also because of the extraordinary impact that the school may be having on staff, students, parents, and the greater community.
There are over 5000 Leader in Me Schools in 50 countries worldwide. There are approximately 600 Lighthouse schools, with currently only 3 here in Alberta. We will be celebrating this milestone soon, so stay tuned for details!
Thank you to all the W.A. Day staff, students, parents, division office staff, volunteers, and community members who have supported the school over the years, helping them to achieve this important designation. Together we will continue to create tomorrow's leaders!