Back to News
Future School Year Calendars Now Available
Posted on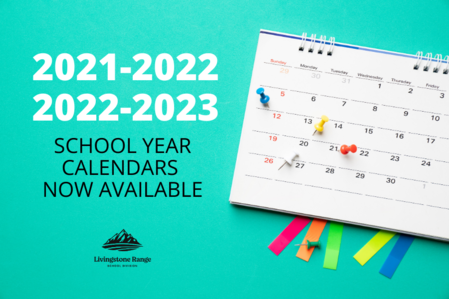 The Livingstone Range School Division Board of Trustees has approved the 2021-2022 and draft 2022-2023 school year calendars, which were developed with important feedback from students, parents, and staff.
In November 2020 stakeholders were invited to participate in an online Thoughtexchange discussion to share their thoughts about the most important factors to consider when creating a school year calendar. The feedback provided by 268 participants sharing 283 thoughts helped Livingstone Range School Division senior leadership prepare the school year calendar for the next two years.
"We heard from our staff, parents, and students that breaks, mental health, and professional learning were really important," says Richard Feller, Associate Superintendent of Learning Services and Human Resources. "This calendar reflects what's important to our Divisional community, while meeting the requirements of Alberta Education."
Stakeholders said that breaks are important, so the calendars include a fall week-long break, two weeks at Christmas, a February break, and a week at Easter. In addition, there will be seven long weekends throughout the year. A wellness day in the fall combined with the breaks and long weekends will provide staff, students, and families time to rest, recharge, and focus on their wellbeing.
A focus on professional learning is calendared to include a New Teacher/Administrator professional development and orientation day, Divisional PD/in-service days as well as school-based PD and inter-school collaboration days. This means a total of 13 professional development days plus 2 days of Teachers Convention for our staff.
"Creating a Divisional calendar is a complex job," says Richard. "But with our stakeholder feedback, we were able to understand and address what's most important to staff, students, and parents. With that information, we've developed a calendar that aligns with our Division's needs, goals, and core values."
To view November's Thoughtexchange report, click here.
To view the 2021-2022 and draft 2022-2023 Division calendars, click here and select 'download annual calendar'.