Back to News
Andrew Bennett Named Livingstone Ski Academy Coordinator
Posted on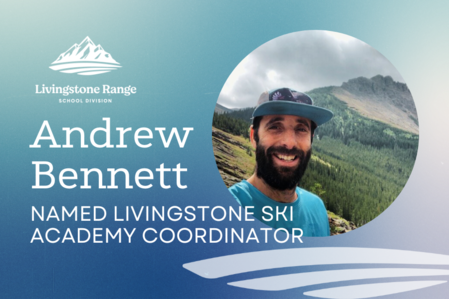 Livingstone Range School Division is pleased to announce that Andrew Bennett has been named Livingstone Ski Academy (LSA) Coordinator beginning mid-October. 
Andrew holds Bachelor of Outdoor Recreation, Parks, and Tourism; Bachelor of Arts; and Bachelor of Education degrees from Lakehead University. He is currently in his 15th year of teaching, and in his fourth year working in programming for  Grade 4-6 LSA students.
"We are excited to welcome Andrew in this new role," says Sarah Holmgren, Livingstone School Principal. "He has worked closely with LSA since his arrival in 2020 and I am confident that with his background in outdoor education, and his strong relationship with students and staff, he will continue to move the LSA vision forward."
Livingstone Ski Academy is a featured program of Livingstone School in Lundbreck, and provides educational, skiing and snowboarding instruction, and alpine lifestyle experiences for both competitive and recreational student-athletes. As Coordinator, Andrew will continue to develop exceptional programming and community partnerships for a unique student educational experience.
Excited to take on the LSA Coordinator role, Andrew says, "I feel very passionate about the program and the value it brings our students, school, families, and community. I am incredibly grateful for this opportunity and am committed to bringing my energy and enthusiasm to the work with students each day."
Andrew and his wife love living in Coleman with their two big and energetic dogs. They enjoy mountain biking, kayaking, canoeing, and skiing. When they're not out adventuring, Andrew spends time puttering in the yard and garden or reading a book on the sun porch.
Congratulations to Andrew on this new role.