Back to News
Become a Classroom Supervisor
Posted on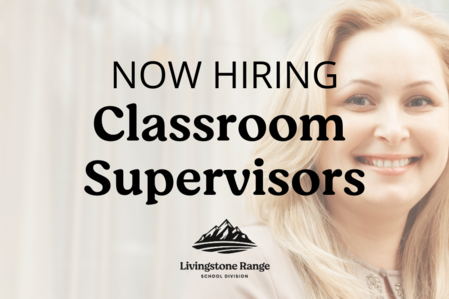 At Livingstone Range School Division, we believe that all students should be learning in an environment that allows them to achieve their capabilities. We believe in a team approach to learning that creates a safe, caring and welcoming, student-centered environment.
We are currently accepting applications for Instructional Replacement Personnel. Under the direction of the Principal, these individuals ensure that the learning needs of students are being addressed by assuming the role of classroom supervisor when a certificated substitute teacher is not available to cover a single day teacher absence.
There are three types of Instructional Replacement Personnel:
Type A - Degree other than Education. individuals must hold a minimum of a Bachelor Degree from a recognized university.
Type B - Post-Secondary Diplomas, Certificates. Individuals who have completed at least one year in a recognized education program from a recognized college or post-secondary institution. To be used when Type A replacement personnel are unavailable.
Type C - High School Academic Diploma. Individuals must hold an Academic High School Diploma and be recommended by a school or Division administrator. To be used when Type A and Type B replacement personnel are unavailable.
If you want to contribute to learning for students, present learning activities, and contribute to a positive learning environment, becoming a classroom supervisor might be for you! Applications must include an updated resume including transcripts and contact information for three professional references, as well as an original and current criminal record check including the vulnerable sector check.
Click HERE to view the full job posting and apply online.
Click HERE to download a Now Hiring Poster.