Back to News
Bonnie Whitford Named Assistant Principal of Matthew Halton HS
Posted on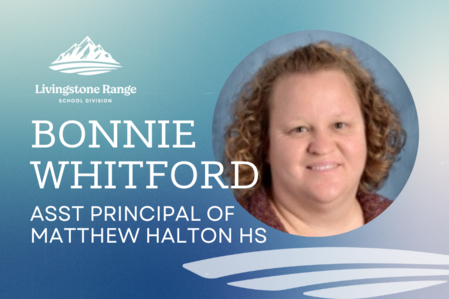 Livingstone Range School Division is pleased to announce that Bonnie Whitford has been named Assistant Principal of Matthew Halton High School in Pincher Creek beginning in the 2023-2024 school year. 
Bryan Burns, who will assume the role of Principal at Matthew Halton High School this fall, looks forward to working side-by-side in administration with Bonnie.  "Bonnie has a wide range of leadership characteristics paired with experiences as a Divisional math lead and assessment specialist; and school First Nations, Metis, and Inuit lead," says Bryan. "Her student-first approach makes her a great fit for the students, staff, and community at Matthew Halton." 
Bonnie holds Bachelor of Education and Master of Education degrees from the University of Lethbridge and has completed additional graduate work in the area of First Nations, Metis, and Inuit education. She has been teaching since 2001 and has worked for Southern Alberta Professional Development Consortium (SAPDC). Most recently she has developed programs and supports for indigenous students at Matthew Halton.
"I am excited about the opportunity to be part of the leadership team at Halton," says Bonnie. "I hope to be able to support the collaborative efforts of the staff at Matthew Halton as they endeavor to provide the very best educational opportunities for students in our school and community."
A married mother of three children, Bonnie spends her summers camping and boating on the lake with her family. During the rest of the year, she is a hockey mom, spending most of her free time in various arenas.
Congratulations to Bonnie on her new leadership role at Matthew Halton High School.