Back to News
Corby Potyok Named Assistant Principal of LRSD Pursuits
Posted on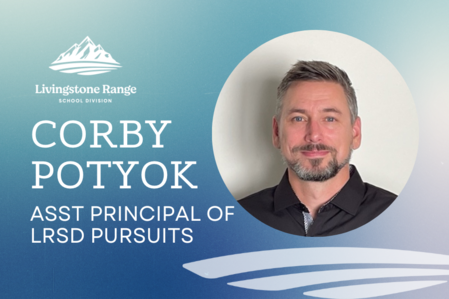 Livingstone Range School Division is pleased to announce that Corby Potyok has been appointed as Assistant Principal of LRSD Pursuits beginning in the 2023-2024 school year. 
Corby holds Bachelor of Fine Arts and Education degrees from York University and has been teaching since 2006. He has been the Acting Assistant Principal of W.A. Day Elementary School in Fort Macleod for the 2022-2023 school year.
"I am very excited to have Corby join Pursuits," says Tara Tanner, Divisional Principal of LRSD Pursuits and Colony Schools. "His depth of experience will be a great asset to the team!"
Corby is passionate about providing a positive learning environment for all students. "I am thrilled to be joining LRSD Pursuits as Assistant Principal and am eager to work with students, parents, and staff to foster a culture of academic and personal growth," says Corby. "I believe that education should be an inclusive, dynamic, and engaging experience that prepares students for success in all aspects of their lives."
Outside of work, Corby enjoys hiking, playing music with friends and family, coaching, and spending time with his family. He loves camping and exploring new areas and trying new restaurants with his spouse.
Congratulations to Corby on his new role!